5/8/2020
(Renton, WA) The Executive Board of the WIAA passed a resolution that would change how all the team sports would be seeded into the State Tournament. All sports teams will now use the seeding committee format to come up with the final State bracket.
WIAA Executive Director Mick Hoffman says the changes were driven by the success from the past few seasons of using this system for football. Prior to that and all other sports had used a criteria format. The criteria system was a set of rules that WIAA officials had to use when determining opening round match-ups and potential 2nd round match-ups. It was a difficult process and many times teams that were believed to be in the upper tier of the teams ended up facing each other earlier than anticipated having perceived 1 and 2 seeds playing in the regional rounds or quarterfinals.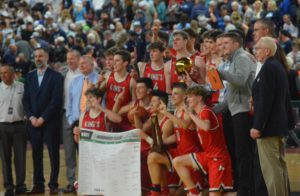 They tried to fix that issue with the RPI system but again the RPI may have brought in more opinions but there were still some hard and fast rules that allowed openings for mistakes. Two glaring examples from basketball alone were in the first year of the RPI in 2017 and Foss was ranked 13 out of 16 in the 2A classification. But everyone knew they should have been in the top 3 and likely #1 but part of their schedule was out of state and did not count toward the RPI. Foss would win the State Title as a 13 seed.
This past tournament in the 1A boys saw a similar result when King's was a 14 seed again due to a hiccup in the RPI rules. King's should have not been worse than a 4 seed and they too would win the State Championship in what looked like a huge upset but frankly did not surprise most observers. The seeding committee adds a final layer of a human element that can see those glaring mistakes and be able to fix them in the final seeding process.
ESN live video streamed this year's committee selections for football and were able to watch how the process worked and hear the questions each committee member asked each other. It was information that they may not have known that could make a difference on where they seeded teams.
For example, it is not uncommon for some teams to have an issue with eligibility especially at the beginning of the season. Getting in the required number of practices is a fairly tight timeline and you can't miss many and be eligible for the first game. A slight injury like a muscle pull or turned ankle could keep some players out especially when the majority of the early season games are non-league. These type of situations and many others that a set of rules can't all take into account allows committee members to makes final decisions with as much information available as possible.
Hoffman says there is still work being done on formatting all the committees and getting each District to get volunteers to serve on all of these committees that will now impact Football, Volleyball, Boys and Girls Soccer, Boys and Girls Basketball, Baseball and Fastpitch. The committees will meet immediately following district tournaments and so dates and other small details will be clarified over next few weeks. The other sports, Wrestling, Cross Country, Tennis, Gold, Bowling and Track all are based on individual performance. There are team titles but in these sports teams do not qualify, individuals do so there will not be any changes in those sports.
Hoffman says we will keep working on trying to create as fair and even playing field as possible but also remember no matter how you determine a bracket for a tournament each bracket is designed for the higher seed or favorites to win and when an upset occurs it creates chaos. The new seeding format will go into effect immediately beginning with this Fall's sports season.
www.elisportsnetwork.com