4/22/20
By Josh Kaiser, ESN Broadcaster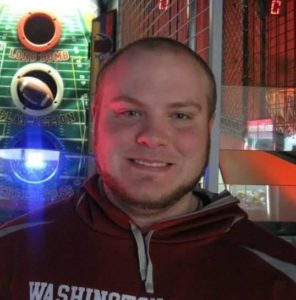 As the state of Washington is a little over the one-month mark of being locked down, it's given me a new perspective on so many things in life. Such things include going to the park, the beach, hanging out with friends and extended family, concerts, going to the grocery store and actually seeing the shelves stocked. Where am I going with this? I will never take sports for granted again.
I will be turning 32 this summer and have been a sports fan for as long as I can remember. It started with baseball, then I got more into watching the NFL and NCAA Football games. I follow the NBA and NHL as well, but not near as much as the other sports.
Growing up in Washington means I've spent a fair amount of time frustrated with the teams in the area. The Mariners playoff drought, the Sonics fiasco, the Seahawks see-saw adventures until as of late, the 2008 Crapple Cup between the 1 and 10 Cougars and 0 and 10 Huskies.
Despite this, these events were there for us. At the end of a long day of work, there is just something special about unwinding at night with the chance of watching the Mariners on TV or listening to the broadcast. Or when time allows going to a game and seeing how green the grass is, the smell of it being freshly cut, the crack of the bat, the smell of garlic fries and seeing how excited kids get when their favorite player comes close.
The Sonics are long gone now, but the game of basketball is still popular around here and many fans of the game have adopted new teams for the time being. Personally, I started following the Bucks when the Sonics were taken away, and naturally they were having a amazing year before the season came to a sudden stop. I wish I had a good story at how I ended up following the Bucks, but at the time that the Sonics left, the Bucks reminded me so much of the team that we lost that I was naturally pulled toward them, plus they were one of my favorite teams to use on NBA Jam once upon a time.
The NFL is trying to go on as normal, but even things for them are getting difficult. At the time of writing this, the NFL draft is coming up on Thursday, a day that is supposed to be the day where so many young men's dreams come true. While they still will get their moment, it's not going to be the same. There is no grand stage this year where a majority of the first-round picks get to cross the stage, shake the commissioner's hand, pose for a picture and have a quick interview. Not this year.
The draft (while I'm thankful this is still happening) sounds like it will be more along the lines of a giant Skype or Zoom meeting. I'm sure I am not the only fan thankful the event is still taking place. Even though it is greatly being altered, it will still provide a dash of normalcy, but not fully. Due to social distancing (which I'm fairly sure will be flashback term for the rest of my life), there won't be the usual draft parties, the watch parties that happen outside of various stadiums or nearby bars, the college campus gatherings to see their local heroes name pop up on the screen. None of it.
But what is to come after the NFL draft? In this weird time of our lives, there is just so much uncertainty. Yes, the WWE is still performing, but it isn't everyone's cup of tea, but they are performing in an empty facility that is their performance center.
Why do I mention this? Because it may be a taste of things to come for many sports this year, if they play at all. As we know, the WIAA has officially canceled all spring sports this year for High School, but what is to come for the Fall and maybe even Winter sports?
The NBA has mentioned resuming play, but with no fans in attendance. The MLB is talking about doing a move that I never imagined I'd see in my lifetime, having teams play at their Spring Training complexes in either Arizona or Florida.
This means rather than an American League and National League, we would have a Cactus League and Grapefruit League and from last I had read about it, once again no fans in attendance. Both the NFL and NCAA seem to have the same idea of possibly suspending the season for a later start in hopes of things being a little more along the lines of how things were before. But we really have no idea when that may be.
Being a sports fan, I am thankful that there is so much news, communication and effort right now in the world of sports. I know there are very serious things going on in the country and the world, but for someone like me, sports will always serve as an escape from the stress or anxiety that could be caused from everyday life.
Not having sports right now has caused me to seriously never take them for granted again. I realized the other day, I'm looking at the first time in 20 plus years that I may not make it to a MLB game in person. It honestly was a heartbreaking realization. It's more than just going to a game for me. Going to these games has made my family and I grow closer with memories created, I still remember my trip to Boston to see Fenway Park like yesterday; and seeing the Green Monster for the first time let alone getting to touch it!
Or going on a whim with some of my best friends for a guys night out, having some beverages and laughs. And even if play resumes in Seattle, how many people, including myself, are going to be in a hurry to get back to stadium that can hold up to 40 thousand plus people any given night? I really have no idea.
While my opinion in this piece is, I won't take sports for granted again, this virus absolutely sucks. I as well as countless other people on this planet will be thankful when this virus seems to be contained. During this time, I unfortunately lost a family member a couple of weeks ago, it seems they were counted as a Covid-19 casualty.
I didn't really know what to do or or who to turn to during that time, fortunately I did have people there for me, but I know they have their own challenges as well. It may seem unusual but being able to watch sporting events would have helped me cope. It would have been a sliver of normalcy for me.  But there isn't much sense of normalcy left in what is probably millions of peoples' lives.
I hope you, the reader of this opinion, haven't been affected by all this uncertainty in the world and if you have, I sincerely hope it has been minimal for you. We will get through this time and there will be many good times ahead in all aspects of life and I will never take the many opportunities sports provides all of us from spectator to participant for granted ever again.
www.elisportsnetwork.com