(Tacoma, WA) Here are our selections for the Eli Sports All-Tournament teams. This is after we have had time to reflect, look at stats and input from the ABC Jam staff who were at the tournament calling games. Our selections are based solely on the tournament games and only from teams that played a minimum of 3 games. We awarded 1 MVP, 5 1st team and 5 2nd team honorees plus a coach for each tournament.
Some selections may surprise people but we did not take year in school as an indicator but impact on the game. Some things are hard to measure that are not in statistical form such as time spent leading the offense, solid defense, a half court patient offense that may take chances away from scoring or making plays. We did take into consideration the seed level coming in and how they finished. No doubt there will be differences of opinion and that's ok, this wasn't intended to dismiss or skip over players who played well and excelled these were simply our choices and regardless it is undeniable that each of our picks had tremendous tournaments and we are excited to celebrate greatness!
4A Boys
MVP
Jabe Mullins-Mt Si
Jabe Mullins with a great feed for the Alley Oop and then as time expires he drives the lane.
1st Team
Hayden Curtiss-Mt Si
Gavin Gilstrap-Central Valley
Tanner Toolson-Union
Jackson Grant-Olympia
Lamar Campbell-Sumner
1st Team Video Highlights
2nd Team
Kaden Horn-Union
Kai Johnson-Olympia
Tucker Molina-Glacier Peak
Josh Lear-Sumner
Kyle Gruhler-Skyview
Coach of the Tournament
Jason Griffith-Mt Si

3A Boys
MVP
Tari Eason-Garfield
Tari with ice in his veins not once but twice in the Title Game
1st Team
Koren Johnson-Garfield
Paolo Banchero-O'Dea
Jaylahn Tuimoloau-Eastside Catholic
Kyson Rose-Kamiakin
John Hart-Rainier Beach
1st Team Highlight Reel
2nd Team
Nolan Hickman-Eastside Catholic
Emani Mitchell-Wilson
Jackson Dorsey-Wilson
Braeden Smith-Seattle Prep
Camerion Stordahl-Marysville-Pilchuck
Coach of the Tournament
Brandon Roy-Garfield

4A Girls
MVP
Mia Hughes-Woodinville
Mia shows off the force she is inside
1st Team
Peyton Howard-Central Valley
Chloe Williams-Central Valley
Maya Erling-Glacier Peak
Alivia Stephens-Issaquah
Aaliyah Alexander-Todd Beamer
1st Team Highlight Reel
2nd Team
Tatum Thompson-Woodinville
Aaliyah Collins-Glacier Peak
Mason Oberg-Union
Sharay Trotter-Todd Beamer
Madisyn Clark-Moses Lake
Coach of the Tournament
Doug Crandall-Issaquah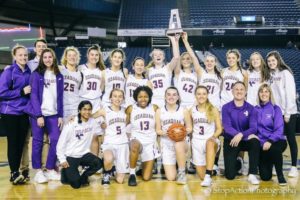 3A Girls
MVP
Meghan Fiso-Garfield
Meghan Fiso scoring 4 of her 58 points for the Tourney
1st Team
Dalayah Daniels-Garfield
Rosa Smith-Lake Washington
Sophia Liesse-Lake Washington
Hailey Hiatt-Arlington
Zaza Walton-Eastside Catholic
1st Team Highlights
2nd Team
Sahcari Davis-Garfield
Esmerelda Morales-Bethel
Jayda Noble-Mount Spokane
Tiarra Brown-Bethel
Molly Moffitt-Seattle Prep
Coach of the Tournament
Marvin Hall-Garfield

www.elisportsnetwork.com