3/11/20
(Renton, WA)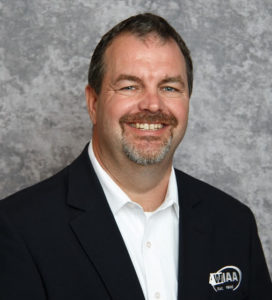 "We're definitely keeping an eye on everything and will respond accordingly with our partner schools and State officials", was the lead comment from WIAA Mick Hoffman in regards to today's announcement from Washington Governor Jay Inslee banning events of more than 250 people in King, Pierce and Snohomish counties. Hoffman was relieved to get in last week's State Basketball tournaments especially now with the NCAA announcing this year's March Madness men's and women's basketball Championships will be played without fans. The NBA is also keeping a sharp eye on the spread of the Coronavirus as Golden State will play a game tonight also without fans.
Hoffman says going into last week they had worked with the State Department of Health about best practices with the 3 sites in the Tacoma Dome, SunDome in Yakima and the Spokane Arena. The health department allowed the events to go forward at that time as they continued to collect data and monitor events and believed the WIAA could go forward with the tournaments with additional hand sanitizer stations and an aggressive public information push to wash hands. The tournaments were all played and the WIAA avoided a major financial hit had they been cancelled or played without fans allowed.
Hoffman says there are other events that are now being impacted the State Forensics, Speech, Debate and Student Congress scheduled for March 14, 21 and 22 have all been postponed at this time due to the University of Puget Sound closing it's campus where the events were set to be held. No new date or location has been identified at this time. Hoffman says so far the Drama Festival at Western Washington University March 19-21, the Dance and Drill Championships at the Yakima SunDome March 27-28 and the State Ensemble and Solo Contest at Central Washington on April 24-25 are all still a go at this time, Hoffman warned though if the college campuses close and/or the Governor's order expands outside of the 3 county ban right now those events could be postponed as well.
Regarding Spring sports Hoffman said until they get to the State Tournaments it is up to the Districts, Leagues and Schools to determine whether or not they play and to follow the directions of the State Health Department and Governor's Office. Hoffman says the one thing the WIAA did was to relieve schools of having to file for a waiver on practices. Each athlete must have 10 practices in prior to participating in a game. They are limited to 6 days a week and the practices count only 1 per day unless they get a waiver. Hoffman says with the overall waiver for all schools they can practice 7 days a week or 5 days of 2-a-days and get all 10 practices done. They have to be real practices though and must be supervised and urged each school to work within their own operating procedures.
Hoffman says some schools have already cancelled all sports thru mid April which could make it difficult to get players eligible in time to play a decent schedule with out getting a waiver on practices. The Districts are also totally in charge of figuring out how to advance teams to the State Tournaments. Hoffman says if they have to have an extended District tournament, draw names out of a hat whatever they agree to is up to each District that already knows how many teams get to go to State from their District. Hoffman says the WIAA is only responsible for allocating the number of State Tournament entries to the Districts, not how they are filled.
Hoffman says he hopes that things don't get too bad and that they can play all the Spring sport Championships but again they will follow what they are directed to do by the State Health Department. Hoffman also said he doubts many of the spring sports will have to worry about the 250 limit for most spring sports in fact said "if baseball can get 250 people to come watch a regular season game then good for them!" Hoffman felt the events most likely that would have to be careful are the large track invitationals where multiple teams participate and you have hundreds of athletes performing at one time but for right now it would only impact events in the 3 counties under the Governor's order.
Hoffman says this is really a wait and see situation but that he and his staff will be working to cover all scenarios like they did with basketball where there was a plan if need be to hold the tournaments without fans. "We will do everything in our power to make sure the student athletes get to participate in the Spring Championships but the final decision may be taken out of our hands." The WIAA will continually update their website as new information is finalized.
www.elisportsnetwork.com