(Yakima, WA)
Day 4 Championship Saturday
All Championship Stories written by Sandy Ringer for Eli Sports

1A Boys Championship Game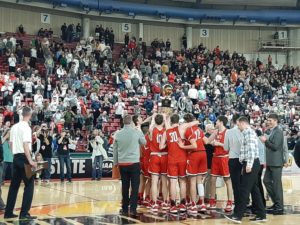 King's 70, Lynden Christian 67 (OT) Box Score Link
Sophomore Tyler Linhardt was willing to carry the load to lead the 14th-seeded Knights to the championship and he did, piling up 25 points, 15 rebounds and six assists. But the tournament MVP didn't have to do it alone.
Fellow sophomore Jordan Hansen buried the game-tying 3-pointer with 6.4 seconds left in regulation – capping an 11-2 run in the final 1:09 that forced overtime. He added four clutch free throw in the final 42 seconds to finish with 16 points, despite sitting on the bench in foul trouble for much of the game. And junior Shane McGaughey-Fick broke out with 19 points, including a trio of threes.
"This is a great feeling, unmatched," said the smooth, 6-foot- 7 Linhardt, who averaged 21.8 points and 12.3 rebounds in four tournament games.
The Knights (19-9), who also needed overtime to beat No. 1 Seattle Academy in the semifinals the night before, hungered for their first title since 2016, when they won back-to-back – especially after falling short last year (third place).
No. 5 Lynden Christian (22-6), fourth last year and first in 2018, got a game-best 28 points from junior guard Jaden DeBoer (son of coach Roger DeBoer), including four 3-pointers. Junior Logan Dykstra added 14 points, while senior Zach Sipma matched 12 points with a dozen rebounds.
Jordan Hansen buries the 3-pointer to force O-T
Consolation Trophy Round
4th/6th Place Game Cashmere 43, River View 40 Box Score Link
Cashmere finished strong after a disappointing loss in the quarterfinals to La Salle and took home the 4th place trophy. The Panthers were equally as determined to bring home hardware in their first Tournament appearance since 2008 and had a 1 point lead at the break. The Bulldogs squeezed out a 3 point win by outscoring the Panthers by 2 points in each the 3rd and 4th quarters. Cashmere's Sam Phillips led the dogs with 15 and 7 rebounds and Carter Alberts added 12 points with 5 boards. For the Panthers Tyler Bussell had 16 with 14 rebounds as River View settled for 6th place.
3rd/5th Place Game Seattle Academy 67, La Salle 63  Box Score Link
This just may be the hardest game in the tournament to play after losing Semi-Final games, some in heartbreaking manner then having to bounce back in less than 24 hours to play a game is very difficult. Seattle Academy did just that after losing to King's by 2 in overtime they had to get past those emotions in a hurry and they did against the Lightning who dropped to Lynden Christian. The Cardinals led 20-10 after 1 and took a 38-27 lead into halftime. LaSalle battled back cutting that lead to just 5 after 3 but fell short in their comeback attempt to settle for 5th place. Leading the Cards was Leo DeBruhl with 20 and Joe Cookson tallied 17. For the Lightning Malachy Caffrey lit it up for 27 and had solid support from Sahil Randawa with 20.
2A Boys Championship Game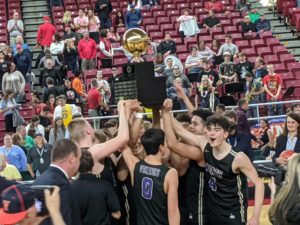 North Kitsap 56, Clarkston 53  Box Score Link
Shaa Humphrey and Kobe McMillian, step-brothers since the age of 3, teamed to lead the third-seeded Vikings to their first-ever championship. The senior duo scored all 15 of the team's fourth-quarter points – including 10 in a row by McMillian during a 2 ½-minute stretch.
It was Humphrey's spinning basket in the lane that gave North Kitsap (24-4) a 56-51 lead with 34 seconds to play, cementing his MVP status.
"I can't take all of the credit," he said. "My teammates set me up to make big shots in big moments. We all just believed in each other and, honestly, it took all 12 of us."
Humphrey had big moments throughout NK's four tournament games – the Vikings had to do it the hard way after getting upset in the regional round by Tumwater, ending a 15-game win streak. He had his 11 against No. 7 Clarkston (20-6) at key times. McMillian was also clutch, going 7-for-7 from the line during his 10-point spree.
And sophomore Jonas La Tour was big-time, too, with a team-best 21 points (plus 11 rebounds). He wound up as the tournament's leading scorer with 75 points (18.8 average).
Clarkston senior guard Tru Allen (was nearly too much, especially in the second half, when he delivered 18 of his game-high 26 points. But no one else hit double figures for the Bantams, who were seeking their first title since winning back-to-back in 2015 and '16. They were up 42-36 in the third and 49-47 with 4:37 to play before North Kitsap's final push.
Clarkston has one last chance to push it to O-T

Consolation Trophy Round
4th/6thPlace Game Black Hills 63, Toppenish 58  Box Score Link
The Black Hills Wolves were led by several Seniors determined to finally get a Wolves team to the Dome. In their history boys hoops had qualified for Regionals twice but failed to get to the big show until this season. B-H was out to prove they were not a 1 game wonder and needed to play on Saturday. After beating Mountlake Terrace in dramatic fashion in the loser out game on Wednesday they fell short in their quarterfinal game against Clarkston who went on to the Championship game. The Wolves then had a showdown with their crosstown rival Tumwater in another loser out and the Senior's came through big in that game determined to get a trophy. The Wolves remained inspired to finish on a win and took the early lead and never gave it up to a very good Toppenish team who came in as the 2 seed. Avery Armin went off for 27 points to lead the pack, Justin Hicks added 13 and 9 boards and Weston Ainsworth finished with 12. For the Wildcats it was a disappointing end to a tournament they had high hopes of coming home with the big trophy. Isaac Perez shined again for Toppenish with 19, Jason Grant and Joshua Perez each had 11.
3rd/5th Place Game Lynden 72, Lindbergh 58  Box Score Link
Lynden was shooting for their 3rd straight Title and Lindbergh was looking at being the best team in school history and both fell short. The Lions had to settle for 3rd after being stunned the night before in the semi-finals by eventual State Champ North Kitsap. Lindbergh did take home only the 2nd trophy in school history but tied the 2011 team with 5th place. Lynden dominated the game early going up big 51-34 after 3. Despite the Eagles' Mo Kora putting on his own slam dunk contest and putting in 36 points with 12 rebounds it wasn't enough as the Lions countered with 3 in double figures led by their big man Liam Hanenberg with 25. He addedf 14 boards to also tally a double-double. Clay Kochuten finished with 14 and Brock Heppner had 13 to support the Lynden cause as they took home the 3rd place trophy.
1A Girls Championship Game

Lynden Christian 58, Cashmere 55 Box Score Link
All-American Hailey Van Lithe was looking for that elusive state championship for the top-seeded, unbeaten Bulldogs, but Lynden Christian had other ideas and had the depth to pull off the upset.
Van Lithe, who has signed with Louisville, gave Cashmere a 51-43 lead with her buzzer-beating 3-pointer to end the third quarter, but it was all LC from there as the No. 2 Lyncs (27-1) won their second crown in three years. They also beat Cashmere in the 2018 final and were second last season to La Salle.
Sophomore Libby Stump led the was one of four Lynden Christian players with nine points or more with 12 points. Senior Riley Dykstra and junior Emily Mellema had 10 apiece and junior Paige TeVelde checked in with nine. Plus, Kiley Roetcisoender, another junior, came up with seven points, including a 3-pointer with 2:54 remaining to snap a 53-53 tie.
That was part of LC's 13-0, fourth-quarter run as Cashmere (24-1) went scoreless for more than 6 ½ minutes. Missed free throws left the door open but the Bulldogs ran out of time with Van Lith's heave well beyond half court was short. She had all 27 of her points in the first three quarters, nailing 6 of 11 threes, but was scoreless in the fourth.
Van Lith, who broke the state scoring record two weeks earlier, finished seven points shy of her quest for 3,000 career points.
Dykstra left the SunDome with a sense of satisfaction.
"We won it back in my sophomore year and it was the best feeling in the world, and I just dreamed of doing it one more time," she said. "Doing it my senior year is just so sweet."
Libby Stump lays it in late for the clincher
Consolation Trophy Round
4th/6th Place Game Annie Wright 59, Warden 40 Box Score Link
The Gators were blown out in the quarterfinals with not their best performance of the season by Cashmere but were determined to prove they belonged and did just that with a big loser out win on Friday over King's when Julianbna Walker hit an amazing half court plus shot at the buzzer to move them into the trophy round, the first trophy in school history for girls basketball. A-W outscored a Warden squad in every quarter to clinch 4th place. Walker led the Gators with 33 points and 8 rebounds. Tala Mitchell added 15. For Warden Jaryn Madsen had 10 and Brecka Erdman had 10 rebounds along with 8 points.
3rd/5th Place Game Freeman 49, La Salle 40 Box Score Link
The Scotties shook off a trouncing in the semi-finals where they lost to Lynden Christian 45-25 and took it to a very good La Salle team who were fresh off a tough loss to Cashmere. Freeman trailed at the break 25-22 but you can make up a lot of ground when you score 13 in the 3rd quarter and blank your opponent. La Salle went 0-fer in the 3rd and fell behind by 10 and it was too much to dig out in just 8 mijnutes and went home with the 5th place trophy. Freeman's Anna Chisholm led the Scotties with 16 while Bradee Parisotto recorded a double-double with 12 points and 16 rebounds. The Lightning got 15 from Trista Hull and 8 from Natalie Newman.
Lynden 60, West Valley (Spokane) 38 Box Score Link 
When the Lyncs needed a lift to start the second half, Keylie Hershey was happy to oblige.
The senior guard came up with a steal and layin to jump-start what had been a stagnant offense – top-ranked Lynden managed just two points in the second period – and proceeded to score 10 straight to break open the game.
"We couldn't really find our flow on offense, so I just decided to jump the pass and I think that got us rolling there for a little bit," she said.
Hershey finished with 22 points, nailing 4-of-5 3-pointers, while Liv Tjoelker added 15 and tourney MVP Ruby VanderHaak chipped in 12.
Lynden (26-1), which led just 20-15 at halftime, out-scored West Valley 20-8 in the decisive third.
The No. 8 Eagles, who won their only title in 1997, got 15 points from senior Hailey Marlow, but no one else had more than seven.
The Lynden seniors had won a title as freshmen in 2017 and Hershey said they had a bitter taste in their mouths after last year's fifth place finish. VanderHaak couldn't think of a better way to end her prep career.
Lynden Keylie Hershey buries a 3 to lead the 2nd half scoring blitz

Consolation Trophy Round
4th/6th Place Game East Valley (Yak) 55,  Ellensburg 54  Box Score Link
The Bulldogs had beaten the Red Devils 3 times this season and were looking for number 4 and the 4th place trophy but fell short to an up and coming E-V team filled with all underclassmen. Ellensburg cruised to a perfect record through the regular season and districts but got bumped off in the Regionals by #7 WF West. This forced the dogs into playing a loser out game on Wednesday and then faced #1 seed and eventual State Champion Lynden in the quarterfinals which they got dumped 62-44. After winning a loser out game on Friday they were looking to take home the 4th place trophy but the spunky Red Devils had other plans. The 2 teams traded first half blows with Ellensburg leading 17-5 after 1 and W-V countering with an 18-6 2nd quarter leading to a 23-23 halftime. Same pattern in the 2nd half with Ellensburg taking a 6 point lead with a 2014 3rd quarter. W-V then put up 18 and held the dogs to 11 for the 1 point win. Ashlynne Sylve was a beast for the 4th straight day scoring 23 while Karina Hibbitt added 10. For the Bulldogs, Kaelyn Smith and Olivia Anderson each had 13.
3rd/5th Place Game Tumwater 62, Burlington-Edison 48 Box Score Link
The T-Birds rolled into the tournament as the number 3 seed despite having only 1 senior and a starting line-up dominated by sophomores. Tumwater had their sights set on getting to the State Title game when West Valley's Hailey Marlow hit a step back 3-pointer as time expired in the semi-finals to send the Eagles to the Title game and Tumwater to the 3rd place game. Meantime, Burlington-Edison is also dominated with younger players and were smacked down in the semi-finals by Lynden 53-31 and were looking for a bounce back on Saturday. Both teams played tight in the 1st and it was 11-11 but then a 10-point difference in the 2nd quarter ended up being to big a hole to dig out of for the Tigers. Tumwater's Aubrey Amendala had 19 while Natalie Sumrok continued her torrid pace at state with 18 and 6 rebounds. For Burlington-Edison Amey Rainaud-Hines and Miranda Maskell each had 10.
Day 3 Semi-Finals & Consolation
2A Boys Tournament
Semi-Finals
North Kitsap 62, Lynden 56 Box Score Link
North Kitsap used a near perfect quarter outscoring Lynden 29-9 in the 4th to knock out the 2 time defending state champions and punch their ticket to the title game on Saturday. The Vikings went 10-10 from the field and 5-5 from 3 point range in the 4th only missing one free throw to spring the upset. Lynden got a double-double from Liam Hanenburg with 16 points and 11 rebounds. Shaa Humphrey led N-K with 21 points.
Clarkston 42, Lindbergh 38 Box Score Link
The Bantams advanced to their 3rd Championship game in the last 6 years with a grinding, hard fought win over an impressive Lindbergh squad. Tru Allen, especially in the 4th quarter led CLK with n19 points, 7 rebounds and 4 steals. Trey Dreadfulwater added 13 and Wyatt Chatfield grabbed 11 boards. For Lindbergh, Xavier Bailey and Mo Kora each had 14. The Bantams face North Kitsap for the Championship while Lindbergh gets Lynden in the 3rd place game.
Consolation/Loser Out
Toppenish 71, White River 57 Box Score Link
After a sluggish start the Wildcats kicked it in gear and rolled into trophy Saturday. The Cats Manuel Felan, Isaac Perez and Mathew Ramirez all knocked down 15 and now face Black Hills Saturday morning. White River had their season come to an end with TJ Strschien leading the Hornets with 23.
Black Hills 65, Tumwater 57 Box Score Link
Two teams all too familiar with one another pushed the game into OT before Black Hills was able to put away Tumwater. Black Hills guarantees themselves a trophy in their first state tournament thanks in part to Justin Hicks' double-double with 21 points and 15 rebounds. Ethan Dillon led Tumwater with 21 points in their season finale.
1A Boys Tournament
Semi-Finals
King's 68, Seattle Academy 66 (OT) Box Score Link
King's came in as the 14th seed due to a glitch in the RPI formula but everyone knew they would be a huge opponent to get past but Seattle Academy felt they had the horse to knock off the Knights. In the final seconds it looked like the Knights were headed for the Championship showdown but Leo DeBruhl drilled a last second 3-pointer to tie the game for the Cardinals and push it to overtime. Neither team could gain more than a 3-point lead in the OT and the winning shot came from King's Tyler Linhardt with just 3-seconds to play. Linhardt led King's with 22 and 8 rebounds. King's will face Lynden Christian in the finals. S-A fell short of the top spot but will play for 3rd on Saturday against River View. The Cards were led by Bruhl's 27 points.
Linhardt's Game Winner

Lynden-Chr 71, La Salle 58 Box Score Link
The Lyncs moved on to the Championship match vs King's after knocking off La Salle. The Lyncs led start to finish pulling out to a 7 point lead after 1 and building it  to 10 at the break. After an even 3rd quarter L-C put it away as they shot a healthy 63% for the game. Jaden Deboer led the Lyncs with 28. Malachy Caffrey topped the Lightning with 24.
Consolation/Loser Out
River View 58, King's Way Chr 57 (OT) Box Score Link
The Panthers and K-W-C both battled hard to get to Saturday but it was River View slipping past for the win to end the Knights season. William Bailey went off for 24 for the Panthers and tallied a double-double with 10 rebounds. Braulio Mendoza added 14. For the Knights, Brady Metz led with 20 and Bryson Metz had 15.
Cashmere 62, Meridian 56 Box Score Link
Meridian once again showed off how tough and scrappy they are but saw their season come to an end courtesy of the Bulldogs. Cashmere gives themselves a chance to play for 4th place on Saturday at 8 against River View. Carter Alberts led Cashmere with 17 points. Jackson Short paced the Trojans with 12 before fouling out in the 4th.
2A Girls Tournament
Semi-Finals
Lynden 53, Burlington-Edison 28 Box Score Link
Lynden put on a defensive clinic in shutting down Burlington-Edison and punching their ticket to the State Championship. The Tigers meanwhile will play Tumwater for 3rd at 11:15 on Sunday. The Lions got a double-double from Faith Baar who had 13 points and 12 rebounds to advance to the championship game at 5. Miranda Maskell led the Tigers with 8.
West Valley (Spo) 43, Tumwater 40 Box Score Link
The Eagles again pulled out a stunning last second win when Hailey Marlow drilled a 3-pointer at the buzzer. West Valley beat WF West the same way in the quarterfinals but this time they advance to the State Championship game on Saturday. The Eagle were led by Marlow with 14 points and 5 rebounds. Leading Tumwater was Natalie Sumrok with 15. The T-Birds will play for 3rd place on Saturday.
Marlow's Winning Shot!

Consolation/Loser Out
Ellensburg 52, Port Angeles 46 Box Score Link
A slow start for the Roughriders left too much to make up in the 2nd half and fell short of the trophy round. Ellensburg came in as the 2 seed and got surprised in the Regional losing to #7 WF West and then had to play #1 Lynden in the quarters. It was a rough road but the Bulldogs will take home a trophy when they play Saturday morning against East Valley of Yakima. Dylan Phillip led E-Burg with 10 and Kaelyn Smith matched that number in rebounds. Eve Burke finished with 14 to pace Port Angeles.
East Valley (Yak) 52, WF West 41 Box Score Link
The loss was a big disappointment for the Bearcats who stunned #2 Ellensburg to automatically advance to the quarterfinals where they were the ones then stunned when West Valley of Spokane beat them on a buzzer beater to drop WFW into the consolation bracket. East Valley was coming the other way from a loser out win in Regionals to a loser out win on Wednesday when the #13 seed sent #5 White River packing. The Red Devils lost to Tumwater by 5 in the quarters and advance to Saturday with this win led by Ashlynne Sylve's 25 points. The Bearcats got 10 from Annika Waring.
1A Girls Tournament
Semi-Finals
Cashmere 46, La salle 37 Box Score Link
The anticipation of this game was huge as Cashmere led by Hailey Van Lith was seeking the elusive State Title for the highly touted senior guard on her way to Louisville and the Lightning were looking to repet as State Champs. Maybe it was the nerves and adrenaline but after 1 La salle held a 5-3 lead. Both offenses started to pop in the 2nd but the Lightning remained in charge at the break building a 20-16 lead. The Bulldogs got things rolling in the 3rd coming out firing and knocking down 18 and holding the Lightning to 7 giving Cashmere a 7 point advatange. The two teams played even in the 4th which pushed La salle to the consolation and denied them of a 2nd straight Championship. Cashemere was led by Hailey Van Lith with 23 points and 11 rebounds and she was assisted by Riley Johnson's 10 points. For La Salle Gilliam Martin was the only one to crack double figs with 10.
Lynden Christian 45, Freeman 25 Box Score Link
The Lyncs smothering defense left little chance for the Scotties to but free for even 1 big quarter and doomed them from the beginning. Freeman could only manage 9 1st half points and scored in doulbe digit only in the 3rd with 10. L-C wasn't a scoring machine with only 19 1st half points but left them with a 10-point lead. They put the game away with 21 in the 3rd to go up by 21 and even though they only scored 5 in the 4th the lead was too much for the Scotties. Riley Dykstra led L-C with 13 while Emily Mellema added 9. For Freeman Jaycee Goldsmith led with 9.
Consolation/Loser Out
Annie Wright 61, King's 58  Box Score Link
The Gators jumped out to an early lead on the Knights 34-29 at the break and then 47-38 after 3 but King's still mounted a furious comeback to outscore A-W 20-11 in the 4th to tie it at 58 with point-4 seconds to play. Everyone assumed it was an O-T game except Julianna Walker. The Knights all fell back on defense deep on their side of the court even though there was only time for a quick shot or tip the Gators had to start on the side of the back court and Claire Sagiao rolled the ball all the way to just prior to mid-court where Walker scooped it and shot it all in one quick motion and it was nothing but net for the win and advanced to Saturday for A-W's first ever Basketball State Trophy. King's fans were upset saying she didn't get the shot off in time but after the officials gathered and talked there was no way any of them could say it didn't get it off in time and it counted…game over. Walker led the Gators with 37 and Tala Mitchell added 13. For the Knights there were 4 in double figs led by Claire Gallagher with 14 and Ashley Gray had 13.
Walker's Miracle shot

Warden 65,  Zillah 49 Box Score Link
Warden's offense struggled mightily in their quarterfinal game against Freeman but woke up in time to stay alive in a loser out contest with Zillah. The Leopards were coming off a tough loss against Lynden Christian and scored only 41 points and in their 2nd game it didn't get much better. The Cougars jumped the Leopards with a 14-5 1st quarter and led 34-17 at the break. In the 3rd quarter Warden poured it on and drew off to a huge 57-28 lead that Zillah could not come close to making this a game. Leading the Coug's was Jaryn Madsen with 23 and 10 from Kaya Enriquez as 9 different players scored. For Zillah, Brynn Wilder led in scoring for 12 as their season came to an end.
Day 2 Results Quarterfinals
2A Boys Tournament
North Kitsap 64, White River 43 Box Score Link
The Vikings forgot to show up in the 1st half scoring only 13 points but White River didn't put them away leading only 24-13. N-K popped for 30 in the 3rd and completed the comeback with 21 in the 4th for the win. Jonas La Tour went off for 26 to lead the Viking charge and N-K advances to Friday's Semi-Final against Lynden. TJ Stroschein led the Hornets with 12.
Lynden 73, Toppenish 55 Box Score Link
The Lions consistency was the huge difference in this game winning every quarter and putting it away with a 26-18 4th. Jordan Medcalf led Lynden with 21 while Brock Heppner just missed a double-double with 9 points and 11 boards. Lynden's search for their 3rd consecutive title continues today in the Semi's. Toppenish's Isaac Perez led the Wildcats with 16.
Lindbergh 57, Tumwater 54 Box Score Link
This back and forth game came down to the final 3.5 seconds with the T-Birds trailing by 3 and needing the Eagles to make a mistake or get a turnover and Lindbergh obliged by tossing it out of bouonds. But Tumwater could not even get a shot off to try and tie it and Lindbergh rolls into Friday's Semi-Finals. Leading the Eagles was Mo Kora with a double-double hitting for 12 points and 16 rebounds. For Tumwater Damon Gaither also hit for double figs twice with 12 and 10.
Clarkston 51, Black Hills 42 Box Score Link
The Black Hills Wolves made it to Day 2 on their 1st trip to State and looked like they were going to jump out and run their way to the Semi's with an early 14-6 lead. From that point on with 2:30 to go in the 1st the Bantams outscored the Wolves 45-28 to advance in the Winner's Bracket. Clarkston got 18 from Trey Dreadfulwater including 15 from behind the arc. Black Hills was led by Zach Crumley's 12 points.
1A Boys Tournament
King's 76, River View 41 Box Score Link
Everyone knew the King's Knights 14 seed was not right but under the current rpi system it is how they were rated so gthe Knights have simply stormed through the first 2 days and their quarterfinal match-up with River View was never in question. King's was led by Tyler Linhardt's 26 and 22 from Jordan Hanson. River View had only William Bailey in double figs with 12.
Seattle Academy 64, King's Way Chr 51 Box Score Link
The Cardinals got 2 big performances from Leo DeBruhl and Joe Cookson with 23 and 22 points respectively and simply held K-W-C at arms length to pick up a huge win. S-A will have their hands full with King's in Friday's Semi-final. K-W-C plays a loser out game Friday morning and were led by Brady Metz's 19 points.
Lynden-Chr 62, Meridian 53 Box Score Link
These 2 familiar foes were all square at the break at 27-27 but a stifling defense holding the Trojans to just 9 3rd quarter points allowed the Lyncs to surge to a 7 point lead which was enough to advance in the Winner's Bracket. Both Jaden DeBoer and Zach Sipma finished with 17 for L-C. Meridian got 16 from Jordan Veenstra to lead their scoring.
La Salle 48, Cashmere 38 Box Score Link
The Lightning used a disruptive defense and patient offense to frustrate the Bulldogs who never got into sync all day. Malachy Caffrey played swarming defense and handled the ball while leading the scoring with 15. Kieran Kershaw also broke into double digits with 10. La Salle now gets Lynden Christian in the Semi-Finals. Cashmere was led by the 16 points of Carter Alberts.
2A Girls Tournament
Burlington-Edison 50, Port Angeles 45 Box Score Link
The Roughriders were on their way to the Semi-Finals when their offense ran into a brick wall. P-A scored 14, 13 and 14 and led the Tigers 41-32 after 3 but could only muster 4 points in the 4th as B-E sprinted past them for the win. Katie King came up big for B-E with 18 and they now get #1 ranked Lynden in Friday's Semi-final. P-A's Emilia Long led their offense with 14.
Lynden 62, Ellensburg 44 Box Score Link
The Lynden Lions were likely a little surprised they had to face the #2 seed in the quarter's but they did not let that get in their way of their quest for the big trophy. The Lions jumped out on the Bulldogs quickly taking a 37-24 halftime lead and pulled away in the 2nd half. For Lynden Ruby VanderHaak recorded 18 points while Rylee Leishman had 13 for Ellensburg.
Tumwater 43, East Valley (Yak) 38 Box Score Link
The T-Birds advanced to the Semi-Finals with a hard fought grind it out win over the spunky Red Devils. Tumwater's lone Senior Olivia Bailon stepped up with a big game tabbing a double-double with 13 points and 10 boards. East Valley got 13 from Karina Hibbitt. Tumwater will play West Valley of Spokane in Friday's Semi-Final.
West Valley (Spo) 44, WF West 43 Box Score Link
The Bearcats were stunned by dropping this one to West Valley after leading 32-24 at the half and then managing only 11 2nd half points. The Eagles dropped in the winning bucket as time expired and the Eagles will move on to Friday's Semi's. Alyssa Amann led the Eagles with 14, Aliyah Henry added 11 and for the Bearcats Annika Waring and Taya McCallum each had 10.
1A Girls Tournament
La Salle 41, King's 37 Box Score Link
In a rock em, sock em style of game the Lighting edged out the Knights to move into the Semi-finals on Friday. Trista Hull scored nearly half the points with 19 and picked off 11 boards for a double-double. Samantha Skaggs scored 11 for the Knights who face a loser out game on Friday.
Cashmere 68, Annie Wright 31 Box Score Link
It was to be a showdown between the State's most prolific shooters, frankly in boys and girls but advantage went to Cashmere's Hailey VanLith. VanLith who is on her way to Louisville next year for College wants to finish what she started here first and left no doubt who was in charge in 2020. VanLith finished with 23 while the Gator's Julianna Walker had 13. The Bulldogs will face La Salle in the Semi's on Friday night.
Freeman 47, Warden 40 Box Score Link
The Freeman defense held Warden to single digits in 3 of the 4 quarters and while not lighting up the scoreboard themselves they did more than enough to pull off the win and stay alive in the Winner's Bracket. The Scotties were led by Anna Chisholm with 16 while Jordyn Goldsmith grabbed 16 rebounds. Warden's Rylee McKay finished with 13.
Lynden-Chr 62, Zillah 41 Box Score Link
The Lyncs controlled this one from the start jumping out to a 36-22 halftime lead. The Leopards could not contain the well dispersed offense as L-C had 9 different players find the bottom of the net. Emily Mellema led the Lyncs with 15 who now face Freeman in the Semi-finals on Friday. Hollie Ziegler scored 16 for Zillah.
Day 1 Results
2A Boys Tournament 
North Kitsap 65, Selah 52 Box Score Link
It was Viking vs Viking but North Kitsap got the better of their Eastern Washington namesakes with a huge 4th quarter rally outscoring Selah 26-14 to advance to Thurscday while Selah's season came to an end. N-K gets White River in the quarters on Thursday at 3:45. Leading N-K Kobe McMillian with 25. Selah's Noah Pepper had 16.
Toppenish 64, Prosser 60 Box Score Link
It was a back and forth nail biter but Toppenish outlasted Prosser to advance into the quarterfinals on Thursday against Lynden at 5:30. Toppenish forced 24 turnovers and scored 26 points off those turnovers to get the win. Prosser see's their season come to an end. Leading Toppenish Isaac Perez with 18. Haden Hicks led Prosser with 21.
Lindbergh 68, Lakewood 57 Box Score Link
The Eagles were soaring in a win over the Lakewood Cougars with a few dunks leading them to a victory and advancing into the quarters on Thursday against Tumwater at 7:15. Lakewood gets eliminated after making their first state tournament. Xavier Bailey led Lindberg with 18 while also getting a double-double from Mo Kora who had 12 points and 18 rebounds. Lakewood was led by Alex Jensen with 18 and a double-double from Morgan Stacey with 15 points and 10 rebounds.
Black Hills 52, Mountlake Terrace 50 Box Score Link
Weston Ainsworth rebounded an air ball and put up a buzzer beating putback to lead Black Hills to the quarters in their state tournament debut. The Wolves will take on Clarkston Thursday at 9. Mountlake Terrace's season comes to an end. Black Hills was led by a Justin Hicks double-double with 22 points and 10 rebounds. Mountlake Terrace was led Jeffrey Anyimah with 13.
1A Boys Tournament
King's 68, Zillah 59 Box Score Link
King's used a big 4th quarter to knock out Zillah and advance to the quarters Thursday at 9. They outscored the Leopards 24-15 in the 4th quarter to turn the tides in the tightly contested game. Zillah has their season come to an end. King's was led by 15 from both Jordan Hansen and Shane McGaughey-Fick and a double-double from Tyler Linhardt 14 points and 16 rebounds. Sebastian Godina led Zillah with 18.
King's Way Christian 85, La Center 63 Box Score Link
The Knights put up the most points in Yakima on day 1 using the offensive outburst to end the season of the La Center Wildcast. King's Way got 29 points in the 3rd quarter alone to punch their ticket into the quarters on Thursday at 10:30. Brady Metz led the Knights with 20 while Hunter Ecklund put up 28 for La Center.
Meridian 61, Bellevue Christian 49  Box Score Link
Meridian used defense to create offense forcing 24 turnovers and outrebounded Bellevue Christian 35-25 to advance to the quarters Thursday at 12:15. The Vikings fought hard but couldn't avoid the upset which ends their season. Jackson Short led Meridian with 17 points while Elliot Hohman led Bellevue Christian with 16.
La Salle 63, Omak 56 Box Score Link
The Lightning got off to a start described by their name as they used a 30 point 1st quarter to fend off the Omak comeback. The 30 point quarter was the most in any single quarter in Yakima but Omak fell just short of the comeback to end their season. Malachy Caffrey and Sahil Randhawa each had 15 to lead La Salle while Tre Marchand led Omak with 13.
2A Girls Tournament 
Port Angeles 68, Clarkston 54 Box Score Link
The Roughriders got off to a rough start but fought back to earn their 20th win of the season and advance to the quarter on Thursday at 9. Port Angeles was outscored in the 1st quarter but fought back and used a 24 point 4th quarter to end Clarkston's season. Port Angeles was balanced with Emilia Long and Eve Burke leading the way with 18 a piece. Ashlyn Wallace led Clarkston with 22.
Ellensburg 73, Liberty (Issa) 52 Box Score Link
The Bulldogs were upset at Regionals and they made sure that wasn't going to happen again as they jumped on the Patriots in the 1st quarter 24-6. The Dogs cruised into the quarterfinals where they are set to face #1 seed Lynden on Thursday. Brinley Hagemeier nearly pulled off a triple-double with 19 points, 13 rebounds and 9 assists. Liberty had their season come to an end with Devynne Warns leading the scoring with 19.
East Valley (Yak) 44, White River 35 Box Score Link
The 13th seeded Red Devils stunned #4 White River grinding out a hard fought win over the Hornets. Trailing  y 1 heading into the 4th E-V clamped down on River holding them to 5 points while popping for 15 for the pull away win. The Devils advance to the quarters on Thursday against Tumwater. Ashlynn Sylve recorded a double-double with 15 points and 12 rebounds. The Hornets' Emma Robbins scored 16 in Rivers final game.
West Valley (Spo) 67, Black Hills 36 Box Score Link
The Eagles busted this one open in the 1st quarter running out to a 30-8 lead limiting the Wolves to just 4 points in each quarter. The hole was too deep and the Eagles rolled into Thursday's quarterfinals against WF West. Leading W-V Naveah Sherwood with 13 scoring 9 of those in the crucial 1st half. Megan River finished with 20 to lead all scorers in their final game.
1A Girls Tournament
King's 65, Montesano 43 Box Score Link
26 points off of turnovers led the way to King's advancing to the quarters defeating Montesano and ending the Bulldogs season. King's takes on La Salle Thursday at 3:45. Samantha Skaggs led King's with 18 points. Zoe Hutchings had a double-double for Montesano with 12 points and 12 rebounds.
Annie Wright 72, Meridian 46 Box Score Link
Annie Wright strolled into the quarters led by Julianna Walker. Meridian played very good offensively but couldn't slow down the Gators as the Trojans saw their season come to an end. Annie Wright sets up a showdown between two of the best players in 1A as Walker will take on Hailey Van Lith at 5:30 on Thursday. Walker led the Gators with 35 points while Skyleigh James led Meridian with 10.
Freeman 49, Elma 25 Box Score Link
Freeman would not settle for just 1 shot as the Scotties got 16 second chance points to run away from Elma and advance to the Thursday quarters. The Elma Eagles struggled scoring as their most in a single quarter was only 11 points. 14 points from Anna Chisholm led the way for Freeman while Jalyn Sackrider led Elma with 11.
Zillah 57, Nooksack Valley 54 Box Score Link
The last 1A girls game of day 1 turned out to be the closest as Zillah overcame committing 22 fouls to comeback and eliminate Nooksack Valley. Zillah gets a very tough quarter-final game against Lynden Christian on Thursday at 9. Brynn Widner went 17-24 from the free throw line to lead Zillah with 25 points. Tehya Moore led the way for Nooksack Valley with 14.
www.elisportsnetwork.com