1/3/20
As we cross over into 2020 the Eli Sports Network is not quite celebrating 10 years but we will be next Fall. This is a look back to all those games, tournaments and events we have covered, literally thousands to where we are now it has been a journey and at the same time it feels like it's just starting. This is a great time to look back and highlight many programs who have shown that consistency that most of us hope to achieve in all facets of our lives.
This list focuses on programs not individual teams and we have come up with a mathematical formula to measure success. It does not take into account simply State Championships but rather consistent great play. Each sport there is a different measurement, it depends on how the final results are officially tallied for example, football there is a 1st and 2nd place but not 3rd thru 8th like in Volleyball and Soccer.
Each sport has an overall top 10 based on our point system and then each classification their top 5. We will start with Football and then do Girls Soccer and Boys Soccer (1b/2B) and then Volleyball. Each sport will be added to this post as we release them.  So let's get this underway!
Volleyball All-Decade Teams
Volleyball was determined with the following point system: 10-State Champions, 7-2nd Place, 5-3rd Place, 4-4th Place, 3-5th Place, 2-6th place, 1-7th place and 1-8th place. Some teams played in multiple classifications and yes we included all finishes in their point total. This list was about getting into the top 8 on a regular basis regardless of what classification. The teams classification were assigned to where they currently reside.
4A
West Valley (Yakima) 46 points
There may be a dispute from Bellarmine Prep since B Prep was in the 4a classification all 10 years while the Rams of West Valley began in the 2A ranks early in the decade then climbed to 3a and now 4a. The Rams can also point out they have won a State Championship in all 3 classifications plus placed in the top 8 7 times. West Valley got to State this past November but did not place after winning their first 4A title in 2018.
Bellarmine Prep 33-points
The Lions had a heck of a run in the first half of the decade winning 3 straight titles in 2012, 2013 and 2014. They had 2 other top 8 placings but have not been to the Tournament since 2016.
Curtis 30-points
The Vikings edged Mead for 3rd place by 1 point and just fell short of grabbing 2nd place with a 4th, 3rd and 2nd place finish at State plus the Championship in 2015 with a 3-1 win over Emerald Ridge for the title.
Mead 29-points
The Panthers would be in 2nd if they had won the State Title one year later instead of 2009. But this decade they reached the championship match twice but lost both and had another top 4 finish in their run.
Auburn-Riverside 27-points
The Ravens also scored points in multiple classifications including a Championship in 2014 with a win over Capital in the 3A tournament and took the 4A title in 2017 with a 3-2 victory over Mead.
3A
Capital 41-points
The Cougars take the top spot by 1 point despite just 1 State Title but their 7 years of placing in the top 8 including 3 other State Championship appearances was just enough to hold off Mount Spokane. The Coug's would have had a clear advantage had they bumped off Mt Spokane in this year's Title match that the Wildcats pulled out a 3-2 win. Capital won it all in 2017 with a 3-1 win over Mercer Island. The Cougars had 6 final 4 appearances out of 7 tournaments.
Mount Spokane 40-points
The difference between the top 2 was a an 8th place finish by Capital in 2013. The Wildcats closed the gap in hurry over the past two season winning back-to-back State Titles over Capital and Lakeside. Those that want to argue Mt Spokane is the Champion because they have 2 titles including a win over Capital have a valid argument but in this measurement they fell 1 point short as the Couagrs got to the final 8 and placed higher in their non Title winning tournament than the Wildcats.
Mercer Islands 26-points
There was quite a gap between the top 2 and the next 3 but the Islanders checked in at #3. M-I was powered by their 2013 Title over Holy Names and their 2nd and 3rd place finishes the past 2 seasons.
Lakeside 23-points
Lakeside rode their 2016 3-0 Championship win over Mt Spokane. The Lions added a 2nd place finish and 2 other top 8 appearances to edge the #5 team Prairie.
Prairie 19-points
The Falcons won the photo finish with Seattle Prep and Eastside Catholic by one point to grab the #5 spot. Prairie got to the finals once and beat North Thurston in 2012 for the big trophy and that was enough to get past the other two for 5th.
Soccer (Girls & 1B/2B Boys) All-Decade Teams
Soccer was determined with the following point system: 10-State Champions, 7-2nd Place, 5-3rd Place, 3-4th Place and 2 for Top 8. Some teams played in multiple classifications and yes we included all finishes in their point total. This list was about getting into the top 8 on a regular basis regardless of what classification. The teams classification were assigned to where they currently reside.
4A
Skyline 51 points
The Spartans were easily the most successful with 3 Titles and 9 appearances out of 10 in the top 8 missing only this past season. Skyline won Titles in 2018 a 2-1 win over Camas, 2012 1-0 over Issaquah and a 1-0 win over Bellarmine Prep in 2011. The Spartans were 3-0 in Championship games. They were also 3-0 in the 3rd place game and had 3 additional trips to the top 8.
Issaquah 37 points
The Eagles made the Championship match 4 times in the decade and split 2-2. They were 0-2 in the Championship after dropping them in 2012 and 2013 but bounced back with 2 Titles in  2015 with a 2-1 win over West Valley (Yakima) and in 2017 over Central Valley also 2-1.
Central Valley 36 points
The Bears just missed 2nd place by 1 and were paced with 2 Championships back-to-back in 2013, 3-2 over Issaquah and then in 2014 with a 5-2 win over Jackson. C-V also finished 2nd once and 3rd once along with 3 other top 8 appearances.
Camas 34 points
The Papermakers did win 1 Title in 2016 blanking West Valley 3-0 and placed in the top 8 another 5 times that included a 2nd place finish. Camas also gathered up 2 3rd place trophies and a 4th.
Sumner 22 points
The Spartans racked up points from 2A, 3A and 4A ranks to crack the top 5. Sumner was pushed into contention with back-to-back State Championships in 2012  and 2013.
Video Highlight: Skyline scores their winning goal in the 2018 Championship vs Camas
3A
Seattle Prep 44 points
The Panthers were the clear winners in 3A dominating the decade with 8 top 8 appearances and 3 Championships. S-P did most of the damage in the 1st half of the decade and won their last Title in 2017 with a 1-0 blanking of Southridge. S-P won the 1st 2 tournaments in 2010 and 2011 with a 1-0 win over Bonney Lake and then a 3-2 victory over Liberty of Issaquah.
Bellevue 28 points
The Wolverines squeezed out 2nd place in a bunched field behind Seattle Prep. They edged Southridge with their head-to-head win in 2016 the year Bellevue won it all. The Wolverines made it to the finals again this year but fell short to the Kangaroos of Lake Washington. Bellevue has a 3rd place and 2 4th places finishes as well helping them secure 2nd place.
Southridge 26 points
 Southridge only got to the top 8 4 times but made the most of it with 3 trips to the Championship match but unable to bring home the big trophy. The Suns played for the Title in 3 straight years, 2014, 2015 and 2016 losing 2-1 to Edmonds-Woodway, 1-0 to Seattle Prep and 1-0 to Bellevue. Any one win of those 3 matches would have pushed the Suns to 2nd place.
Kamiakin 21 points
The Braves have been to State 8 of the 10 years and finished in the top 8 5 times with their best finish 2nd place in 2013 where they lost to Liberty (Issaquah) 2-1. Kamiakin had 2 3rd place finishes and 2 additional top 8 appearances.
Edmonds-Woodway 19 points
The Warriors snagged the 5th spot powered by their State Championship in 2014 over Southridge 2-1. E-W added a 3rd place and 2 quarterfinal appearances to their resume.
2A
Columbia River 47 points
The Chieftains racked up 3 State Titles in the 3A and 2A classifications  and added one runner-up trophy and 2 3rd places. C-R also won a Title in 2009 but that did not count in this decade list. The Chieftains 1st Title was in 2012 in the 3A ranks knocking off Mt Spokane 3-1. Since dropping to the 2A level they have been on a run with a State Championship in 2016 beating Liberty 3-2 and followed that up with a 2nd and then 3rd place finishes before winning again this past November with a 1-0 victory over Hockinson.
Liberty (Issaquah) 44 points
The Patriots were consistent with 7 top 8 appearances out of 10 years and just missed the top spot with 2 Championships. Liberty won it all in 2013 with a 2-1 win over Kamiakin and then in 2018, 4-1 downing Sehome. The Pats made it to the finals to other times and added a 3rd, 4th and top 8 finish.
Squalicum 28 points
The Storm went on an impressive 4-year run from 2012-2015 that included 2 State Titles one over Shorecrest 2-1 and a 4-0 shut-out of Ridgefield. That run also included a 3rd and 4th place finish.
Sehome 26 points
The Mariners just missed the 3rd slot with an almost all or nothing post season. With just 4 top 8 finishes they had 1 State Title, two runner-ups and 1 top 8. Their Championship came in 2010 with a 6-2 win over White River.
 (Tied) Ridgefield and Archbishop Murphy 19 points
The Spudders best finish was a 2nd place in 2015 losing to Squalicum and adding on 2 3rd's and a top 8. Archbishop Murphy never got to the Championship match but tallied 3 3rd place finishes and 2 top 8's.
Columbia River needed only 1 goal to capture the 2019 title
1A
King's 46 points
The Knights only got 1 Championship but were relentless in getting to the top 8, 9 out of 10 times. King's lone Title came in 2017 with a 2-1 win over Cascade. The Knight's had 2 other trips to the Championship match but fell short both times. They added another 4 3rd place trophies and a 4th to round out an impressive decade.
Seattle Academy 38 points
S-A scored early then late to grab the #2 spot by winning the 2011 Championship 2-1 over Overlake. S-A added their 2nd Title this past Fall with a 1-0 win shutting out Cascade. Although they had no other Championship appearances 9 of 10 years in the top 8 were more than enough to finish 2nd best in the 1A classification.
La Salle 35 points
The Lightning's 1-2-3 finish from 2016-2018 powered them into the top 5. La Salle won the top prize in 2018 with a 2-1 win over King's Way Christian and had 5 quarterfinal finishes to help them climb to the 3 spot.
University Prep 32-points
The Puma's dominance in the early part of the decade was more than enough to find a place in the top 5. U-Prep had 2 Titles, back-to-back in 2012 and 2013 with identical wins of 3-2 over Seattle Christian and King's.
Overlake 23 points
The Owls were able to grab the 5th spot using their Championship in 2016, a 3-0 win over La Salle and a runner-up finish in 2010 with 3 quarterfinal finishes to tally enough for our 5th place team.
2B/1B (Girls)
Crosspoint 41 points
Even though the Warriors didn't qualify for this year's State Tournament they finished in the top 8 7 of the first 9 years with back-to-back titles in 2013 and 2014 with wins over Bear Creek and Liberty Bell. Crosspoint also had a runner up finish in 2015 dropping to Okanogan and added to 3rd place finishes to clinch the top spot.
Adna 31 points
The Pirates may be the most interesting team in all of our lists as they climbed to the #2 position with no appearances in a Championship Match. Adna has played in the Final 4 7 times this decade but never advanced for a shot at the title but did bounce back to win 5 of the 7 3rd place matches.
Bear Creek 29 points
B-C did all their damage in the 1st 4 years with a quarterfinal loss followed by 2 State Titles  and a runner-up finish. B-C defeated Napavine in 2011 and 2012 for back-to-back Titles and then lost to Crosspoint in 2013.
(Tied) Liberty Bell and St George's 27 points
The Mountain Lions and Dragons both just missed not only 3rd place but 2nd and it wouldn't have taken a whole lot to have had a different outcome. The L-B Mountain Lions racked up their points in a far different way than the Dragons by getting to the top 8 8 times with just one Championship match where they settled for 2nd. But they added a 3rd, 3 4th place finishes and 3 quarterfinals to get to 27 points. Meantime, St. George's only appeared 3 times and took full advantage with 2 Championships and a 2nd place finish. The Dragons won in 2016 and 2018 both times over Kalama and a 2nd place finish in 2017.
Adna scores the winning goal in the 3rd place game over Onalaska
2B/1B (Boys)
St. George's 56 points
The Dragons have played in half of the Championship games in this decade and held up the Gold Ball 3 times plus they added 2 3rd place finishes and a quarterfinal. St. George's raised the Championship banner for the 1st time in 2015 with a win over Tacoma Baptist then defended their title over Crosspoint and got their 3rd one this past November in a shoot-out with Life Christian Academy.
Prescott-Waitsburg 46 points
A combination of Prescott and Waitsburg-Prescott grabbed the #2 spot by participating in 9 of the 10 quarterfinal rounds. They also added 2 Titles, a 2nd place finish, 2 3rd's, a 4th and 2 quarterfinal finishes paced this combination to the 2nd spot of our list.
Providence Classical 32 points
P-C has the most success early on in the decade including the Championship in 2010 when they defeated Shoreline Christian. P-C followed that up with a 2nd place and 3rd place finish and then 5 quarterfinal showings.
Crosspoint 25 points
The Warriors won it all in 2017 with a 2-0 shut out win over St. George's to pace their point total. They also had a runner-up finish a 3rd and 4th place to pick up one of each to claim 4th.
Mount Vernon Christian 24 points
The Hurricanes have been very consistent in getting into the tournament with 7 entries but only advanced to the final 4 twice but did get a Championship. The 'Canes won it all in 2014 with a 2-1 win over Waitsburg-Prescott.
Girls Soccer All-Classifications Combined Top 10
1 Skyline (4A) 51-points; 3 Championships, 3 Finals, 6 Final 4's, 9 Final 8's
2 Columbia River (2A) 47-points; 3 Championships, 4 Finals, 6 Final 4's, 6 Final 8's
3 King's (1A) 45-points; 0 Championships, 3 Finals, 7 Final 4's, 9 Final 8's
4 Seattle Prep (3A) 44-points; 3 Championships, 3 Finals, 5 Final 4's, 8 Final 8's
4 Liberty (Issaquah) (2A) 44-points; 2 Championships, 4 Finals, 6 Final 4's, 7 Final 8's
6 Seattle Academy (1A) 38-points; 2 Championships, 2 Finals, 4 Final 4's, 9 Final 8's
7 Issaquah (4A) 37-points; 2 Championships, 4 Finals, 5 Final 4's, 6 Final 8's
8 Central Valley (4A) 36-points; 2 Championships, 3 Finals, 4 Final 4's, 6 Final 8's
9 La Salle (1A) 35-points; 1 Championship, 2 Finals, 4 Final 4's, 9 Final 8's
10 Camas (4A) 34-points; 1 Championship, 2 Finals, 4 Final 4's, 6 Final 8's
Football All-Decade Teams
Football was determined with a point system as follows: 10-State Champions, 7-2nd Place, 4-Final 4 (Semi-Final losers) and 2-Final 8 (Quarterfinal losers). Some teams played in multiple classifications and yes we included all finishes  in their point total. This list was about getting into the top 8 on a regular basis regardless of what classification. The teams classification were assigned to where they currently reside.
4A
Camas 39 points
The Papermakers had 2 State Titles and a runner-up to pace their point total. The Papermakers snagged their 2nd big trophy this past December 7 with a convincing 35-14 win over Bothell. The Papermakers also won in 2016 beating Richland. Camas thought they had their 1st Championship in 2013 when Chiawana pulled out a magical comeback win in the final seconds in a game that might just have crippled many other programs. Camas Head Coach Jon Eagle was determined not to let that difficult loss be the lasting memory of Camas football and they are now the #1 team of the past decade in the 4A classification. Camas also had 2 additional Final 4's and 2 Finals 8's. One of the final 4 and 1 Final 8 were at the 3A level that lifted them slightly over Skyline. The 4A was the most diverse and had the lowest point total for their Champion.
Skyline 38 points
The Spartans may argue they are the true 4A top team as they came in just a point behind Camas and that only after the Papermakers got 4 additional points from their 3A days. Skyline used a fast start to the decade coming off Championships in 2008 and 2009 the Spartans settled for 2nd in 2010 and then won 2 straight titles in 2011 and 2012 and then finished 2nd again in 2015 finishing an incredible run 4 Championships and 6 top 2 finishes in 7 years. Unfortunately for this list 2 of those Titles are not counted which would have added 20 points to their total.
Bothell 32 points
The Cougars did split the dfference getting their lone Title over Chiawana in 2014 24-14. They have 2 other Final appearances but it was their consistent play of getting to the top 8 7 out of the 10 years that earned them the 3rd spot.
Richland 23 points
The Bombers got 1 Championship in 2017 cruising over Woodinville after getting beat by Camas for it all the year before. Those 2 games plus an additional final 4 and a final 8 appearance were enough to get in the top 5.
Woodinville 23 points
Although the Falcons tied with Richland with 23 points the Bombers get the #4 nob simply because they have a Championship. Woodinville did it by grinding away with only 1 Finals appearance but 3 other Final 4's and 2 Final 8's showed that it is possible to get in the top 5 without winning the big one.
Camas rolls in the 2019 State Championship over Bothell
3A
Eastside Catholic 60 points
The Crusaders really dominated this decade although they were battered around early by Bellevue in 2011 after not advancing to State in 2010. In 2012 and 2013 E-C made it to the Championship game but lost both times to Bellevue. The Crusaders then rose up and won their first title over Bellevue in 2014, 35-13. Bellevue would no doubt have challenged E-C for the top spot but got caught up in a recruiting scandal and had to vacate the 2012 and 2013 Championships along with the 2014 runner-up. E-C did not get the 10 points for 2012 and 2013 as they were not declared the winner.E-C added 3 more titles winning 4 of the last 7 including this year with a fantastic come from behind win over O'Dea to clinch the top spot in the 3A Classification.
O'Dea 44 points
The Irish are coached by the man with the 2nd most wins in state history, Monte Kohler and he proves his success with 7 appearances in the State Tournament over the past decade. The Irish got to the finals 5 times but could only get 1 championship but that consistency certainly made them one of those teams you knew you had to contend with to get to the top.
Bellevue 37 points
Despite having 27 points taken away which would have lifted the Wolverines to the top they still checked in at #3. We are sure there are many who would dispute the games and Titles that were left intact but that is not up to us and we simply added up the points as indicated by the official finish. 2 Titles and one runner-up was left in place that paced the Wolverines.
Kamiakin 23 points
The Braves was the only team to break through the BIG 3 in this decade and took the 2016 Title with a 14-7 win over O'Dea. The Braves also had a runner-up finish to Bellevue in 2010. They had another final 4 finish and a final 8.
(Tied) Peninsula and Lakes 12 points
The top 3 teams really dominated the decade and didn't leave a lot of room for anyone else. Peninsula simply did it by getting to the Tournament 6 of the 10 years qualifying for the final 8. Lakes got to the final 8 2 times and the final 4 2 times to get into the top 5.
Eastside Catholic needed this win over O'Dea to claim the top spot as team of the decade!
2A
Tumwater 56 points
The T-Birds did not win the most titles they won 2 and bookended the decade with a Championship in 2010 and this year in 2019.In between Tumwater advanced to the final 8, final 4 and the Title game 9 out of the 10 years. They settled for the runner-up spot 4 times and 1 final 4 and 2 final 8 appearances. The winningest Coach in State history Sid Otton picked up his 6th career Title in 2010 and 5th for Tumwater while his replacement Bill Beattie who spent most of his career, 22 years as the Olympia Bears Head Coach and guided Tumwater to their 6th Championship and his first.
Lynden 52 points
The Lions roared early and often in this decade winning in 2011, 2012 and 2013 the last 2 over Tumwater. Lynden won more Championships than Tumwater but fell behind with 2 additional championship appearances and 2 finals 4's. Lynden was led to those Championships by Hall of Fame Coach Curt Kramme who tragically passed away in 2017. Altogether Kramme coached 26 years and tallied 6 Titles with the final 3 all in a row.
ArchBishop Murphy 36 points
The Wildcats made National News a couple of seasons when more than half of their season resulted in forfeits because the smaller schools in the league did not want to take the beating the much larger and more physical team the Wildcats put on the field. But it may surprise some people that the Cats only claimed 1 Championship. They also advanced to 2 other Title games losing to both Lynden and Tumwater.
(Tied) Hockinson and Prosser 28 points
The Hawks surged to the top 5 winning back to back Championships in 2017 and 2018 knocking off Tumwater and Lynden. They advanced to the Final 4 1 other time and the Final 8 2 times.
Prosser did it also with 1 Championship over Tumwater and then more consistency getting to the final 4 3 more times and the Final 8 also 3 times for a grand total of 7 top  finishes in 10 years.
T-Birds on their way on bookending the decade with State Championships
1A
Royal 57 points
The Royal Knights have been on a tear the second half of this decade after a respectable 1st 5 years. The Knights under their long time Head Coach Wiley Allred had 1 Finals appearance and 4 top 8's prior to running off 3 straight Championships, a final 4 and then another Title this year for 4 of the past 5. Royal joined Eastside Catholic as the only 2 teams to win 3 straight Championships in this decade. Royal started their run in 2015 with a 28-7 win over King's then followed that up with a 25-10 victory over Connell and then beat Meridian 33-27 for their 3 year run. In 2018 the Knights were again the favorites to win it all when they were stunned by Colville who went on for a convincing win over Newport for the Championship. Royal was one of 7 undefeated teams entering this year's play-offs but were the unanimous choice as the team to beat. They rolled through the play-offs but then needed a late touchdown for a dramatic come from behind win over upset minded Lynden Christian for their 4th Title in 5 years.
Cascade Christian 33 points
The Cougars were just the opposite using a stellar run during the 1st half of the decade to take the early lead of "Team of the Decade" but could not sustain the pace they set but held on as our #2 team. CC got things started with a 42-35 Championship win over Connell in 2010. Connell got their revenge the following year in a re-match. The Cougs would get another shot at the Title in 2014 and pulled off their 2nd Championship of the decade with a 27-26 squeaker over Colville.
Connell 32 points
The Eagles missed tying for 2nd by just one point but their decade has been impressive including one time to the top of the mountain. The Eagles got revenge on Cascade Christian in 2011 with a 28-7 win over the Cougs after losing to CC the year prior in the Title game. Since then they racked up 2 more Final 4 appearances and another runner-up finish in 2016 where Royal got them 25-10.
Montesano 22 points
The Bulldogs finished in the top 8 5 of the 10 years with one Championship appearance in 2012 when they faced Royal and rolled over the Knights 43-28. Monte added to final 4 appearances with the last one coming in 2015.
(Tied) Colville and Mt Baker 21 points
The Colville Indians surged to the top 5 with their huge 48-7 Championship win in 2018 over Newport for nearly half their points. They also had one other Finals appearance and 2 top 8's for their 21 points. Mt Baker did it with more persistence by finishing in the top 8 7 of the 10 years. Although they never won a Championship they had 1 shot at it in 2013 losing to Freeman 31-13. They also had 1 Final 4 but then finished in the top 8 5 times to round out their scoring.
Royal tied for #2 in our all-classification top 10 while rolling to the top spot in the 1A Classification
2B
Napavine 47 points
No the Tigers did not win the Championship the most in this decade but they appeared in more Title games than anyone else with 4 and overall in the top 8 9 times. Coach Josh Fay has turned the Tigers into one of the most respected programs in the state and that is because every year you can count on seeing the Tigers at some point in the Final 8 and just as likely in the Final 2. Napavine picked up their Title in 2016 with a big 34-16 victory over Liberty-Spangle. The Tigers lost their 1st 2 tries at the big trophy in 2014 and then 2015 both to Okanogan by scores of 17-14 and 36-34. They also lost to Kalama in 2018. Napavine 3 additional Final 4 appearances and 2 more in the top 8. The only year the Tigers did not score in our system was in 2012 when they were knocked out of the play-offs in the opening round making them one of very few teams to have qualified for State in all 10 years.
Lind-Ritzville-Sprague 30 points
L-R-S got their points early on in the decade with back-to-back Titles in 2012 and 2013 over Morton-White Pass by scores of 21-19 and 7-0. 11 points the other way over 8 quarters and it would be M-W-P sitting in this spot. L-R-S added to their 20 points with one other final 4 appearnce and 3 top 8's. L-R-S was the first of 3 schools to win back-to-back 2B titles which makes Napavine's definitive win by our metric evn more amazing as the Tigers were not one of them. Okanogan and Kalama also won back-to-back.
Kalama 27 points
The Chinooks stormed into the spotlight the past 3 years where they scored all their points. They won it all in 2017 with a 28-27 victory over Liberty and then held off Napavine 34-25 for their 2nd trip to the Winner's Circle in as many years. The Chinooks made it to the finals this year but could not deny Onalaska and settled for 2nd. Had the Nooks pulled off their 3rd straight Title they would have tied Eastside Catholic and Royal as the only schools with 3 straight Championships and would have tied L-R-S for 2nd in the 2B's, however, finishing 3rd when your point total was 0 through the first 7 years is an impressive run.
Okanogan 24 points
Our 3rd team with back-to-back wins checks at #4. The interesting thing here is their 2 wins are against the #1 team and their 4 other points are for 2 finishes in the top 8. But those finishes were from the 1A classification that they picked up early in the decade. All of their points were earned in the first 5 years and since their 2nd title the Bulldogs have been silent.
Morton-White Pass 23 points
The Timberwolves also made alot of noise early on in the decade advancing to the State Finals 3 straight years but losing all three. They lost to Waitsberg-Prescott and then twice to Lind-Ritzville-Sprague. The T-Wolves had one other final 8 appearance in 2015 and they also have not been heard from since but made that early run count to crack the top 5.
One of Napavine's big Semi-Finals win this one in 2018 over rival Adna
1B
Neah Bay 57 points
In recent years Odessa, Almira-Coulee-Hartline and Lummi have surged and taken control of the 1B ranks but they don't come close to the dominance the Red Devils presided with over the 8-man game. N-B won 4 State Titles during this impressive run. The Red Devils began the decade with a top 4 finish in 2010. They followed that up with a State Championship over A-C-H in 2011 with a 36-28 score. In 2012 they returned to try and defend their Title but lost to Liberty Christian 34-28. They would bounce back in 2013 with a 36-18 win over Touchet for their 2nd big Gold Ball of the decade. In 2014 they would get their revenge on Liberty Christian 56-38 for Title #3. They would stumble in the Semi-Finals in 2015 and then add their 4th trophy in 2016 with a 64-34 win over Odessa-Harrington. In 2017 they would get to the top 8 and that is where their streak ended and they racked up the 2nd most points of teams tying with 1A Royal.
Lummi Nation 45 points
The Blackhawks are the only team to have had an appearance in at least the top 8 in all 10 years. They made 6 top appearances and 2 Championships where they split 1-1. They lost to A-C-H in 2015 46-42 and won it all as we started this decade in 2010 with a 55-30 win over Cusick. This year was their worst showing a final 8 loss.
Almira-Coulee-Hartline 44 points
The Warriors have made 7 top 8 journey's over the past decade and came away with 2 Titles from 4 Championship games. They won their first one over Lummi in 2015 46-42 and then in one of the wackiest games of all time they knocked off Sunnyside Christian 84-60. The game was close to seeing, we are guessing, the first team to score 52 points in a game and have the running clock kick in. A-C-H took an 84-52 lead in the 4th quarter and had they scored and converted the 2 point PAT it would have been 92-52 and the running clock would have kicked in. There was more than 1,000 yards of offense in the game between the 2 teams.
Odessa 24 points
The Tigers surged here late winning the last 2 titles back-to-back for 20 of their 24 points. Odessa won recently with an 80-26 romp over Naselle clinching an undefeated season. Odessa got things started when they rolled up A-C-H 63-12. The Tigers earned their other 4 points the year before in 2017 earning all of their points in the last 3 season. Odessa may be poised to strike early in the new decade as they have put together a nice run in the past 3 seasons.
Liberty Christian 21 points
Liberty Christian was one of those early impact teams that cooled off but aquired enough points to crack the top 5. Their 21 point was fueled by their back to back Championship appearances in 2012 where they beat Neah Bay 34-28 and then fell short in 2014 as the Red Devils got their revenge. L-C had one other top 4 appearance to cap their scoring.
Football All-Classifications Combined Top 10
1 Eastside Catholic (3A) 60-points; 4 Championships, 6 Finals, 7 Final Four, 8 Final 8
2 (tied) Royal (1A) 57-points; 4 Championships, 5 Finals, 6 Final Four, 9 Final 8
2 (tied) Neah Bay (1B) 57-points; 4 Championships, 5 Finals, 7 Final Four, 8 Final 8
4 Tumwater (2A) 56-points; 2 Championships, 6 Finals, 7 Final Four, 9 Final 8
5 Lynden (2A) 52-points; 3 Championships, 5 Finals, 7 Final Four, 7 Final 8
6 Napavine (2B) 47-points; 1 Championships, 4 Finals, 7 Final Four, 9 Final 8
7 Lummi (1B) 45-points; 1 Championships, 2 Finals, 8 Final Four, 10 Final 8
8 (tied) O'Dea (3A) 44-points; 1 Championships, 5 Finals, 6 Final Four, 7 Final 8
8 (tied) Almira-Coulee-Hartline (1B) 44-points; 2 Championships, 4 Finals, 6 Final Four, 7 Final 8
10 Camas (4A) 39-points; 2 Championships, 3 Finals, 5 Final Four, 6 Final 8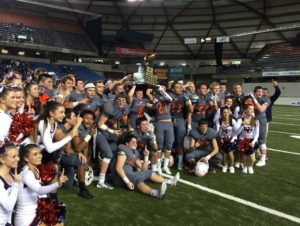 www.elisportsnetwork.com