10/18/19
It is hard to believe we have already reached week 7 of the Football season and there were several really important games but none bigger than a State ranked #1 vs the #2 team and likely for the League Championship. That's what was rolled out in Onalaska. Other big games we had included the EVCO 2A showdown with #1 ranked Tumwater at #4 WF West, an undefeated showdown in Union Gap where La Salle hosted Zillah, Emerald Ridge poised to show the SPSL they are for real, Kentwood trying to remain unbeaten to set up their massive battle next week with Kennedy Catholic, Ridegfield trying to solidify their #2 position in the GSHL 2A and West Valley of Yakima looking for the ball to bouce their way after 3 straight hear wrenching losses. Plus games from Thursday where Puyallup looked to tighten their grip in the SPSL and Auburn-Riverside battled with Kentlake in the NPSL.
Below are re-caps, pictures, videos and links to coverage of all our games:
Friday Night Games
Central 2B
#2 Onalaska 36, #1 Napavine 13
The Loggers were more than ready for their longtime rival and knocked them off the top of the hill. LewisCountySports.com's Aaron VanTuyl was there and has this full story on the game. 
Onalaska's Lucas Kreger puts the Loggers on the board first late in the 1st quarter
[embedyt] https://www.youtube.com/watch?v=Jvfiy5yqpgs[/embedyt]
EVCO 2A
#1 Tumwater 34, #4 WF West 0
There was lots of chatter about how maybe the T-Bird dynasty was over after losing to Black Hills and taking 2nd in the EVCO 2A and now this year the Bearcats were loaded and ready to keep the T-Birds as the runner-up but Tumwater blew open a tight 7-0 game in the 2nd half with a throttling defense and opportunistic offense to pull away for the win. We have a couple of angles on coverage from the Olympian, you can read Dave Weber's story here and from LewisCountySports,com read Matt Baide's story here.
Dylan Paine gallops in with the only score of the 1st half
[embedyt] https://www.youtube.com/watch?v=uVdG3-yFD_A[/embedyt]
SCAC 1A
#10 La Salle 42, #9 Zillah 14
La Salle and Zillah came in unbeaten and with several lopsided wins which is likely why their rankings were at 9 and 10 and both knew the winner of this game would likely get a boost. La Salle will rise at least one spot but likely puts them in position for a higher ranking after this convincing win over the Leopards. The Yakima Herald Republics Scot Spruill was there and you can read his story here.
Kieran Kershaw sneaks in for 6 to get the Lighting on the board first. 
[embedyt] https://www.youtube.com/watch?v=HQ3P-_pf2zA[/embedyt]
SPSL 4A
Emerald Ridge 21, Sumner 14
(Puyallup, WA) The Emerald Ridge Jaguars were 1-7 in SPSL league play last year and rolle dinto this contest battling for at least 3rd place and were a half game behind the Spartans. Sumner had their eye on winning 2 games against Ridge and then next week against Bellarmine to set up a show down with 1st place Graham Kapowsin in the final week on Halloween. But they needed to take care of business on this rainy night at Sparks Stadium.
Both teams looked to the ground game to lead them early and it led to several possession changes with no real advantage either way. The Jags would punch in the only score of the 1st half when Kaden Martin blasted in from the 1.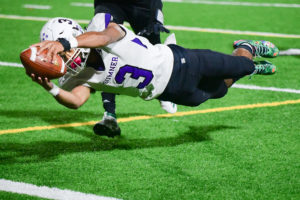 The pace of the game would change suddenly in the 2nd half beginning with the opening drive by Sumner. The Spartans would get a great kick-off return to the 36 of Ridge by Lamar Campbell. Tyson Berndt would take over at QB and struck the tying TD with a 29-yard pass to Campbell who made a spectacular catch and then dove into the endzone for the score.
The Jags answered with a touchdown of their own on the next possession and was set up with 2 big passes from Tyler Martin to Justin Stransky  that ended with the ball being on the Spartan 3. Kaden Martin finished it off with his 2nd score of the night and a Jag 14-7 lead. Emerald Ridge looked like they put the game away with their 3rd touchdown on a 12-play, 92 yard drive that took 8 minutes off the clock. I t might have taken more but Carl Milam slipped out of a of tacklers and zipped into the endzone to make it 21-7 with 4:01 to play.
Sumner, however, was given new life when the Jags were called off-sides on the kick-off and had to re-kick from the 35. Not sure if the kick was a missed squib kick or an actual on-side kick attempt but either way Tripp Fischlin scooped up the short rolling kick and took off up the near sideline and reached for the goal line and got in for a quick score, it only took 10-seconds off the clock.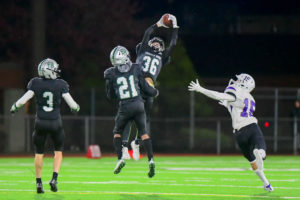 The Spartans got the ball back with 1:58 to play but a throw into triple coverage was picked off to all but end the game by Ben Hunter. The Jags ran the clock and got Sumner to burn all their time-outs and did get the ball back on their own 4 with just 6 seconds left to play ran one play and the clock ran out giving Emerald Ridge their 5th SPSL win. The Jags will travel to Vancouver to face Heritage next week in a non-league contest and Sumner has Bellarmine Prep.
Check out a special Photo Gallery from Intensity Sports Photography at the bottom of the page.
Carl Milam slips away from the Spartan defense for eventual winning TD.
[embedyt] https://www.youtube.com/watch?v=nOrrfSwyRJ4[/embedyt]
Tripp Fischlin answers the Jags to keep Sumner in the game.
[embedyt] https://www.youtube.com/watch?v=6Z2904YqM-g[/embedyt]
NPSL 4A
Kentwood 34, Tahoma 24
This was a trap game all the way for Kentwood as Tahoma came in 1-2 in league but 4-2 overall and were a lot better team than you may think coming in while Kentwood was undefeated and pretty hard not to have teenagers look ahead to that big showdown with #1 ranked and undefeated Kennedy Catholic next Saturday.
Conks Coach Michael Bush may have had to send a few reminders to his players to focused and have that one game at a time mentality and they were able to hold off a spunky Tahoma squad to set up next weekend's huge showdown with the Lancers.
[embedyt] https://www.youtube.com/watch?v=Z9X8WDPtGQc[/embedyt]
GSHL 2A
Ridgefield 34, Woodland 6
This was an important game for the Spudders as they are in a dogfight for 2nd place with Washougal. The big win pushed their record to 3-1 tied with Washougal but they own the tie-breaker with the Panthers who lost to the Spudders. Ridgefield has a non-league game with Prairie next week and then finish with 1st place Hockinson. Washougal takes on the Hawks next week and finishes with RA Long. Columbia River still has an outside shot sitting at 3-2 but did beat Ridgefield.
The Columbian's Anthony Heaton was there and you can read his story here. 
[embedyt] https://www.youtube.com/watch?v=0QMLITgMqnA[/embedyt]
Big 9
West Valley (Yakima) 51, Moses Lake 0
The Rams finally got over the hump and in a big way rolling over Moses Lake. The scoring came early and often building a 30-0 halftime lead. QB Isaac Madrigal had a huge night throwing 3 touchdowns. Jack Van De Brake was on the receiving of 2 of those scores while Drew Johnson hauled in the other one. Johnson also picked off an M-L pass and returned it to the house for another 6. The Rams are now 1-3, snapping a 3 game league losing streak where they lost by a combined total of 15 points. West Valley is now 2-5 and take on Davis next week.
The Rams got on the board 1st
[embedyt] https://www.youtube.com/watch?v=-8C9iozE-48[/embedyt]
Thursday Night Games
Puyallup 62, South Kitsap 0
No doubt the South Kitsap Wolves were big underdogs coming into this game with 6th ranked Puyallap but they were hoping with the rainy conditions and maybe the Vikings over-looking them they could stay in the game and maybe pull off a stunning upset. Those plans were laid to rest in a hurry and in fact with 8 minutes left to go in the 2nd quarter the two coaches agreed to go with a running clock as Puyallup had blown the game open 41-0.
It began with the opening series as the smothering Vikings defense held the Wolves to a 3 and out and on the punt Isaac Clark flew in and blocked the punt and Sermon Wilson scooped up the loose ball and rambled into the endzone and in less than 90-seconds it was 7-0. On the ensuing kick-off the ball came loose on the return and Danny Uluilakepa fell on it on the SK 34. On the 2nd play QB Luke Holcomb aired it out to Clark for a 33-yard score and it was 14-0 with 9:41 to play in the 1st.
On the next drive the Wolves had the ball stripped again and once again big Sermon Wilson recovered it on the Wolves 39. 30-seconds later Holcomb hit Jordan Dwyer to make it 21-0. After an SK 3 and out the Vikings finally started from their side of the 50 on their own 36. Holcomb dropped back and threw a flat pass to Angel Sanchez who dodged and weaved his way for a 59-yard catch and run to the 5 and then Kyler Johnson pounded it in from short yardage for the score but the PAT missed so it was 27-0 with still 4:47 in the 1st.
7-seconds later Kyler Johnson picks off a Kitsap pass and Puyallup was back in business on the Wolves 46 with 2:53 to go in the 1st. 1 play later and a hand off to Isaiah Dickerson it was 34-0 as he went 46 to the house for the score. SK would get it back but once again a turnover put Puyallup in great position on the Wolves 29 with 16-seconds to go in the 1st. Holcomb would strike again with a lob pass to Joseph Dwyer and just 18-seconds into the 2nd quarter it was 41-0. The coaches agreed to go to the running clock after the next drive and Puyallup would add one more TD before the break on a nifty 29-yard scamper by Holcomb and it was 48-0.
In the 2nd half the reserves would play and the Vikings added 2 more touchdowns, one a from Freshman QB Michah Balzarini to Dontae O'Gwin and the last a 1-yard plunge from Stryder Resendez for the final 62-0 score. Here's an oddity in this game with 9 touchdowns scored, no Viking had more than 1. In order they were Sermon, Clark, Jordan Dwyer, Johnson, Dickerson, Joseph Dwyer, Holcomb, O'Gwin and Resendez. There was a 10th touchdown a pass from Holcomb to Angel Sanchez but was called back on a penalty.
Puyallup's Isaac Clark blocks the SK punt and Sermon Wilson scoops and scores to kick-off the scoring flurry of the Vikings
[embedyt] https://www.youtube.com/watch?v=ntjK4tyDRCE[/embedyt]
Auburn-Riverside 42, Kentlake 18
The Ravens needed the win and one next week to hold to 2nd place in the Valley Division of the NPSL. Turnovers played a big role in this game and Aub-Riverside quickly built a 10-point lead helped by a safety the defense would swarm the Falcons QB in the endzone for the 2 points. Auburn-Riverside is now 2-1 in league play and 6-1 overall, Kentlake continues to look for their first win dropping to 0-7.
The Ravens defense swarms the Kentlake QB for the 2-point Safety.
[embedyt] https://www.youtube.com/watch?v=mw3IDwqsgS8[/embedyt]
Special Photo Gallery from the Emerald Ridge at Sumner game courtesy of Stacy Tyler from Intensity Sports Photography  
Elisportsnetwork.com