Hockinson High School senior reconstructs future after tearing ACL
Story and photos by Dan Trujillo
Eli Sports content director
It was the knee jerk reaction that rocked Washington state.
Sawyer Racanelli, the 2018 2A state football player of the year, who rushed for five touchdowns in the championship game to help Hockinson High School win its second state title in a row, tore his ACL at a scrimmage game in June and will not be able to play during his senior year of high school.
"I was running a comeback," Racanelli recalled. "I planted weird. A little harder than I normally do. I didn't really hear the pop, but I knew something happened."
After taking a few weeks off to rest, Racanelli went in for an MRI. He was at a church camp when the 17-year-old's worst fears were confirmed. It wasn't just a sprain. He needed surgery.
"I wouldn't have wanted to be anywhere else when I found out," he said. "Everybody prayed for me. They said, 'Have faith in God. He's going to help you prevail. Be better and stronger than you were before.' My teammates said, 'We got this. Don't worry. We'll play for you.' That support and those prayers helped a lot."
With two high school state championship rings and verbal commitment to play football for the University of Washington, Racanelli faces his biggest challenge off the field this year. He rehabs two days a week at Rebound Physical Therapy at Cascade Park in Vancouver. Although he cannot play, Racanelli will be on the sidelines coaching and mentoring his teammates.
"I'm hoping coach Steele gives me a headset," Racanelli said.
"It kind of sucks because I'm used to playing football and doing everything in practice," he added. "One of my coaches told me, 'Every day that you're out here and you can't play, just wear a UW shirt and that's your bigger picture.' That's what I'm thinking about now. High school is just a small glimpse at what I have in my future."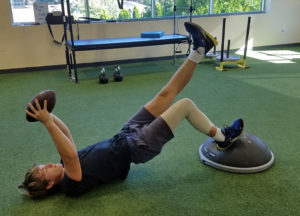 Huskies double down on investment
Once the news of Racanelli's torn ACL broke on social media, he received messages of encouragement from family members, friends, coaches, teammates and even his rivals on the field. He also got about 25 letters of support from the University of Washington's football staff.
The Huskies are taking care of their investment from Hockinson. On July 26, Dr. Albert Gee, the team's surgeon, reconstructed Racanelli's knee using a patellar tendon graft. The surgery took about 2½ hours.
"As soon as I got out, I looked at my knee and I was shocked," Racanelli said. "I just started crying. I have no idea why."
Hours after the surgery back home, and feeling a ton of pain, Racanelli realized his road to recovery was going to be long and grueling.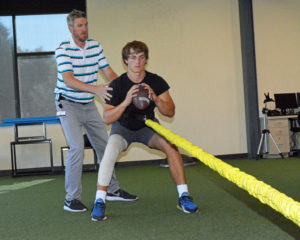 On the rebound at Rebound
Four weeks into his rehab at Rebound, Racanelli is seeing the results with the help of athletic trainer Jeff Kraayeveld and physical therapist Travis Munnell.
"In the early phases, our big focus is helping him regain his range of motion," Munnell said. "Primarily with extension. Is he getting his knee all the way straight? And then, working on his ghate mechanics. Just being able to walk normally, and controlling the pain and swelling."
Racanelli is used to flying all around a football field, but now it's hard for him to jog or get from one end of the hall to the other at school.
"I can't get around easily like I used to. Everybody takes that for granted," Racanelli said. "During practices, just even trying to run around, I can't do any of that. My dad doesn't want me to throw the ball because he doesn't want me to do anything stupid.
"It's hard," he added. "I want to be out there with my brothers. We won two state titles together. We gotta get number three."
Munnell said the hard part for rehabbing athletes who want to get back in the game right away is to slow down.
"They see athletes at the pro level coming back sooner than either we or their doctors are telling them. We have to remind them that everyone's a little bit different," Munnell explained. "Even somebody like Sawyer, he thought he would be back in time to play baseball this spring. We said, 'Focus on the bigger goal.' For him, the bigger goal is playing football for the University of Washington."
Kraayeveld and Munnell work with four to five people with ACL injuries each day.
"We know the injury rates are still high throughout the nation after an ACL reconstruction," Munnell cautioned. "We try to remind our patients of that. Stay focused on the end goal and trust the process, step by step."
Rebuilding an athlete like Racanelli is never easy, but Kraayeveld believes they can get him ready to achieve his dreams in the Pac-12 and beyond.
"It was a devastating injury for him, but he has a full year to recover," Kraayeveld said. "When he goes to UW, he's going to be a year out of this. The stability in his knee is going to be solid. He's going to go into a D1 program, get into a lifting program and just take off from there.
"That's why we love to do this," he added. "We like to see the kids on day one right after surgery all the way to their return to the sport. That's the rewarding part for us."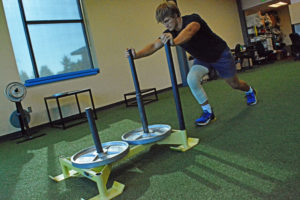 More to offer Hockinson
Although the Hawks already miss Racanelli at the line of scrimmage, they are able to pick the brain of one of the best to play the game at the high school level.
"People are going to see the other side of Sawyer now," said teammate Peyton Brammer. "They're going to see the coach, the mentor and the great person that he is. We're all here for him, too. He'll help us and we'll help him."
When Racanelli sees something the receivers or defensive backs are doing wrong, he calls Brammer over to show them how to do it right.
"He's the physical and I'm more of the mental," Racanelli said.
"It would have been pretty special to see both me and Peyton out there playing in our senior year," he added. "I think that could have been a record breaking year for both of us, but I think it will be fun to see these guys step up. I'm going to do everything that I can to help them. I have no doubt that we're going to win a third one."