5/9/19
In 2017 Ridgefield softball Coach Dusty Anchors was given a very difficult diagnosis of Advanced Cardiac Heart Disease and given a short time to live. Coach Anchors sat with his team and broke the news to them and it was decided that he was going to stay on as Coach. He told his doctors and family that he was going to coach the season all the way through the play-offs and he was not going to miss his daughter's wedding in July of 2018. 2018 was a good year for the Spudder softball program finishing 2nd to Woodland, who wouold go on to win the State Championship. Ridgefield then placed 2nd at Districts just missing the Title losing 4-3 to WF West.
No question all eyes from his players to parents, assistant coach, administration and fans were on Anchors making sure he was ok as he continued to lead his team. They again just missed bringing home a State trophy thanks to WF West who knocked them out in the 5th game of the 2-day tournament. You wouldn't have guessed that Ridgefield didn't place let alone win it all as to how they celebrated their effort but most of all celebrated their beloved Coach Anchors.
Coach then had one goal left to achieve and that was to walk his daughter down the aisle at her July wedding and he did it. Anchors knew his chances of surviving were minimal but he fought with everything he had and would never give up. His failing heart was still beating and he was going to live every second he possibly could as long as he was still here. The remarkably he began to gain strength and feel stronger. As the 2019 season approached he decided he would once again put on the Royal Blue and Orange of the Spudders and lead the softball team.
Currently the Spudders are in 2nd place with a 9-2 record trailing undefeated Woodland. They are preparing to wrap up their season with a game at Washougal and then the district tournament where they hope to again find their way to Selah and the State Tournament. But this year they will have to do it without Coach Anchors. Coach posted on his Facebook today that he is entering a hospice facility. We are not going to speak for Coach and his touching words no doubt will resonate not only throughout the softball world but to everyone who has had any type of contact with such a wonderful man. Here is his touching post in his exact words:
Dusty Anchors is 
 asking for donations.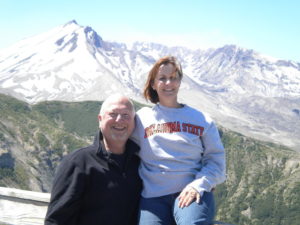 *** WARNING *** This is not a very happy post…and likely my last!!
As many of my Facebook friends and family know…the past 2 years I have been fighting the battle of "Advance Cardiac Heart Disease" Its has seem that over the last 6 months, I have had to spent more time at OHSU, Legecy and Providence Hospitals than at home home with 3-4 Dr Appts each week.
This past Sunday I had an event at home which I briefly stopped breathing and shook Lori like I have never done before in our 35 years of being married..
My heart, finally telling me and my body that no matter what amount of drugs I was using…it was done!!
Dr Gelow and the medical team, were able to convince me that it is now time…to let go…to rest in peace and to let everybody close to me know that it was time to be in a better place.
Today, May 9th…I will be going to Community Home Health Hospice in Salmon Creek to start this final chapter. Once there all drugs, cords, tube, pills will be stopped and will be just given those to keep me comfortable. I'll have a private room that opens out into a garden space…Lori will be able to rest easy and my golden Lab Chase, along with Shayla, Kelsey, Mike and Kayte along with grandkids can be there as well to laugh, cry, hug and remember what a good life it had been.
As many of you know…sports, especially coaching Softball has been a huge part of my life the last 30 years. It has allowed me to go places, meet people and experience great events and Championships…the wins, losses but more importantly the lifes of young female "student 
/athletes" I have effected. The Diamond Dusters, Absolute Blast…7 years at Olympic H.S. (2 trips to State)…a year at Eastlake working with a group of incredible girls who had fun…"burning daylight", to Battle Ground and finally falling in love with the Ridgefield Community and High School with 2 league championship titles, 2 trips to State and on the verge of #3…so many people, so little time now.
There are so many people to thank, it boggles my mind…so many friends I have made, I know if I were to list I'm sure I would overlook somebody!!
Again…please know I'm good with this decision…its time. I'm not a very religious person, but your thoughts and prayers for my family an myself are always welcome. I know that maybe some of you may want to visit…please contact Lori via Facebook or cell (360 265-4185) to set that up.
Thanks for your friendship, sharing your life with me…but its now time to "…burn a little daylight!!"
Coach Dusty
Coach Anchors is asking for people to donate to the American Heart Association and as of this writing he has had $420. Here is a link to his Facebook post where we hope many of you will find time to make at least a small donation on behalf of Coach Anchors.
Now for a point of personal privilege, I have met Coach Anchors and he had helped us on a few broadcasts with our Vancouver broadcast team. He is someone who gave us some instant credibility and did us a great favor by trusting what we were doing and willing to put his name on it. This was a big deal to us and it is extremely appreciated. Now in this era of division and the political tantrums we as a society are exposed to on a daily basis to the heart breaking tragedies of school shootings, natural disasters and the general unrest currently in the country I will say watching Coach Anchors for the past couple of years, admittedly from a distance, it was so refreshing to see true goodness at work.
Dusty Anchors is not afraid of showing his love and devotion to his family or to his players. He gave countless hours of his own time to help kids in all areas succeed. He believes High School sports are not only special but essential. He believed so much in his duty as a coach and leader to his players he never gave up literally until he simply could not do it anymore. Coach Anchors' spirit, work ethic and most of all his love should be held up as the standard we should all desire to achieve.
I have a sincere regret and it will no doubt stay with me for the rest of my life but I promise I will learn from it and more than that start living life like Coach Anchors with vigor and a love for simply the next day. I was going to set up a time to do a much longer story with Coach Anchors and he had agreed all I had to do was make time. I simply did not, I can make excuses that this came up and that came up but the hard truth is I didn't get it done and that's my fault.
If you are wondering why the outpouring for Coach Anchors is what it is then think about this…if Coach Anchors can teach a lifelong lesson to someone who never officially met him and had a couple of interactions with him from a distance then think of the impact he has had with kids he has raised and coached. Ridgefield is sad today with this news but Ridgefield I have news for you the rest of us are sad and jealous that you got to have such a gem of a person all to yourselves. Please embrace your time with him, treasure it. You may not realize the impact he has had on you now through your tears and sorrow but soon your face will light up and a broad smile will cross your face when you remember him and what he taught you.
Coach Dusty Anchors is without a doubt a hero. Much love, respect and thanks to you Coach Anchors, you are the best and we should all burn daylight while we still can!
If you would like to leave a comment to Coach Anchors or please donate to his cause click here to link to his Facebook Page.
I had to add this video, it seemingly was written for Coach Anchors long ago and is certainly appropriate now.