7/15/18
(Auburn, WA) Four Stakes races including the 1st big tests for this year's 2-year-olds were on display Sunday afternoon at Emerald Downs. Below is coverage of the Mount Rainier Stakes, Angie C, King County and the Boeing Stakes. All four races were worth $50,000 and coverage of each race is below in order of how they were run.
*Mt Rainier Stakes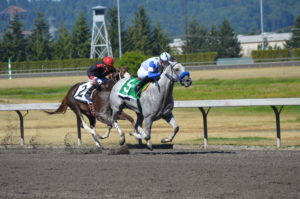 The 23rd running of the Mt Rainier was a tight but competitive field once again re-uniting Barkley and Mach One Rules but neither would be favored in the field of 5 that would again go to the swift Riser. This is the final prep for the August 12th Longacres Mile.
In the last meeting between this group the Blaine Wright trained Riser cruised to a gate to wire win by 2 and half lengths but was disqualified for an incident at the gate. Riser took a hard right and forced Barkley to check and break last. The stewards DQ'd Riser and placed him 5th and last behind Barkley. Dedicated to You ended up 1st and Mach One Rules was awarded 2nd place money.
Riser would be tested going 1 1/16th but Hernandez got him away from the gate with no trouble while Mach One Rules laid just off in 2nd Dedicated to you was 3rd Barkley took back as usual in 4th while Opportunistic trailed. This order held all the way to the top of the stretch and it looked like Riser would simply pull away and although he won by 2 lengths it was Barkley who made the race interesting as he came through on the rail.
Barkley looked like he may run down Riser at about the 1/8th pole but Hernandez felt him coming and got after Riser who held Barkley at a safe distance. Riser stopped the clock in Stakes record time of 1:40.08 just 2 5th's off the track record.
Riser was the fan favorite at 1-5 and paid $2.60 on the $2 win while Barkley was dismissed at 11-1 and returned $4.40 to place. Mach One Rules held 3rd while Opportunistic and Dedicated to You completed the order of finish.
Riser collected $27,500 for winning owners Chappell Alpine Farms out of Idaho. Riser was bred by Justice Farm and is by Mizzen Mast and out of Goodbye Cat.
*Angie C Stakes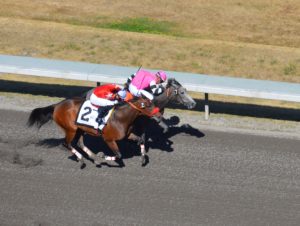 The 1st big test for 2-year-old fillies was a wide open affair in the 23rd running of the Angie C. The race is named in honor of Emerald Downs' founding member Ron Crockett's mother. Aikman Juliet was the tepid morning line favorite at 3-1. The Paul Treasure owned and trained daughter of Comic Strip won impressively in her only start a 5 and a half length win in a 5 furlong test, jockey Anne Sanguinetti was scheduled to ride but an injury from falling off a mount on Friday night kept her off her mounts and Juan Hernandez got the ride.
The race set up for Aikman Juliet as she laid off a pace dual between Sunshine Emily and Northwest Factor. That pair set fractions of 21.4 and 44.4 when Aikman Juliet loomed up on the outside and as the trio turned for home they were all in a line but A-J had the momentum. As Sunshine Emily ran out of gas on the inside and would finish 5th in the end, Northwest Factor was not done and jockey Julien Couton got the attention of NW Factor and they came back on the inside of Aikman Juliet. Aikman Juliet then began to hang and NWF with Couton would grind her down and pull the minor upset at nearly 6-1 by ¾'s of a length.
Northwest Factor returned $13.80 for the $2 win and earned her owners the How We Roll Stable 4 $29,700. She ran the 5 and half furlongs in 1:04.2 and was bred by Watershed Bloodstock and is by The Factor and out of East Side Charley.
*King County Express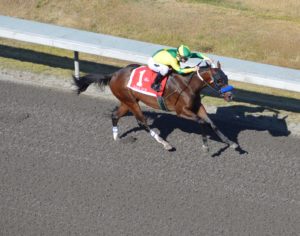 The 2-year-old boys got their turn next in the King County Express also running for the 23rd time and it there was a clear morning line favorite Baja Sur. Baja fired a 60 Beyer in his only start at 5 furlongs at Emerald Downs winning by more than 5 lengths. Erick Lopez got the call to ride him back from trainer Blaine Wright.
The playbook was dead on in their maiden win so why change and Lopez sent Baja hard to the lead, took control and blew the doors off the competition winning by more than 10 lengths. In the end the race was for the minor awards as there was no stopping the betting favorite and he returned $2.80 as the odds on choice.
27-1 shot Vernynsky ran well to be 2nd with Gary Wales up and Sky Confidential took 3rd. Despite the 1-5 favorite winning coupled with Vernynsky it was a decent $15 return on the $1 exacta. Baja Sur ran the 5 and a half furlongs in 1:03.13. Owners John and Janene Maryanski collected nearly 25k for the win and Baja Sur is by Smiling Tiger and out of Premo Copy and is a Washington Bred by John Roche.
*The Boeing Stakes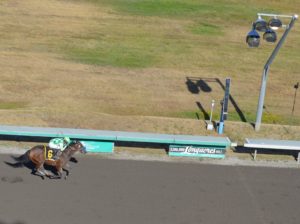 The 1 1/16th mile Boeing Stakes had a solid field of 8 going to post and a slight morning line favorite in Top Quality but the betting public more than slightly favored her and bet her down to even money. Out of the gate things got easier for Top Quality as the 8 horse Racy Rascal went to her knees and dropped rider Rocco Bowen right in front of the starting gate. Bowen was uninjured and walked off the track.
Reginella went right to the front with My Heart Goes and No Talking Back just off the pace. Top Quality with Kevin Orozco settled in 6th and stayed there until entering the far turn when Orozco eased her to the outside for clear running and slungshot herself by all and led by 3 entering the stretch and pulled away to win by 3 and ¾'s.
Reginella did well to hang on for 2nd and No Talking Back took the show money. Blaine Wright had 3 horses in the race including the top 2 and that Blaine Wright exacta returned a decent $12.30 with the 1-1 shot on top.
Top Quality is a Kentucky bred by Quality Road and out of Lemon Bay. Ten Broeck Farm was the winning owner and pocketed $26,675 in purse earnings. The winning time was 1:41.39.
Here is Racy Rascal losing rider Rocco Bowen at the start. Neither Racy Rascal or Rocco were injured.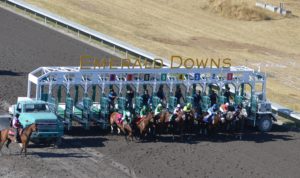 Day in Review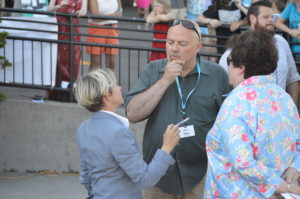 It's always fun to have  more than one main event and the 4 Stakes races in 1 day made it even more exciting although there wasn't a real big surprise with 2 1-5 shots an even money horse and one just shy of 6-1. The all-stakes 50-cent pick 4 paid $22.65. This actually was a pretty good return considering the heavy favorites. A $2 win parlay on the 4 winners would have returned $44 while a $2 pick 4 paid $90.
4 different jockey's would end up winning a Stakes race with Juan Hernandez taking the 1st Stake, Julien Couton the 2nd, Erick Lopez the 3rd and Kevin Orozco winning the finale. Orozco also had 2 other winners on the day for the hat trick. Meanwhile, Juan Hernandez rode in 3 of the 4 Stakes and finished 1st with 2 2nd's. Both Orozco and Hernandez took rides for the injured Anne Sanguinetti, Orozco won on a 10-1 outsider in the 3rd race She Will and Hernandez finished 2nd in the Angie C Stakes on Aikman Juliet.
Blaine Wright had a spectacular day entering 6 horses in 4 different races and winning all 4. Wright got things started with Riser in the Mt Rainier. Baja Sur cruised in the King County Express and Top Quality ran away in the Boeing. Wright also started Reginella and Sheeza Sassy Girl in the Boeing Reginella took 2nd and Sassy was the only one out of the money today taking 6th. Wright wasn't finished yet as he also won the 9th race with Fortunate Cookie in a 7,500 claiming event. For the day Wright racked up more than $90,000 in purse winnings.
The Promotions Department was busy with Food Trucks at the track all 3 days this weekend and the Equine Art Show on the main level. Also on Sunday, the only female jockey to ever win a triple crown race, the Belmont Stakes, Julie Krone was the Honorary Steward for the 4 Stakes races.
Photo Gallery